Bill Gates: China 'catalyst' of 3rd wave of poverty reduction
China.org.cn,November 07, 2018

Adjust font size:

China has an increasing role to play in the world, and can be catalyst for the third wave of poverty alleviation, said Bill Gates, founder of Microsoft and chairman of TerraPower, at the Hongqiao International Economic and Trade Forum, part of the China International Import Expo (CIIE).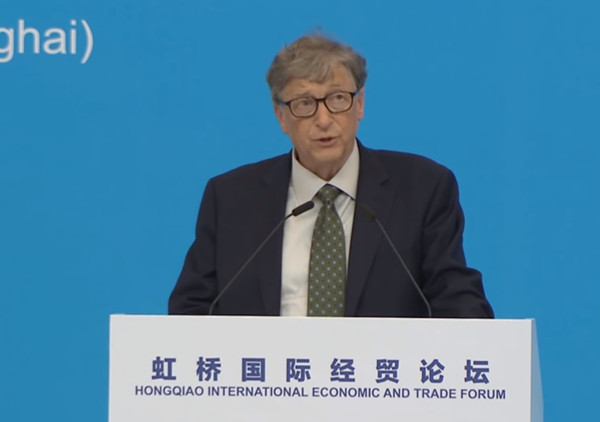 "The new channels for national trade that China has opened are making a big difference, and the extreme poverty rate here has fallen from 66 percent to less than 4 percent."

He cited China and India as examples of the first two waves of poverty reduction, "Now we want to create a third wave to include the rest of the countries, including those in Africa. I believe China can be a catalyst for this third wave due to its increasing role in the world including imports and its increasing capacity for innovation."
Gates said these aspects were helping China overcome domestic challenges such as tuberculosis, HIV/AIDS, malnutrition and poverty, as well as supporting China to become a stronger partner in global development byleveraging its innovation.
He cited the example of the headquarters of the Global Heath Drug and Discovery Institute (GHDDI) being opened later this week, which is jointly founded by Beijing government, Tsinghua University, and the Bill and Melinda Gates Foundation to discover and develop new affordable drugs for health problems that disproportionately affect people in developing countries.
This was part of plan for the foundation to partner China in unlocking the innovative potential so it would "benefit not only China but the entire world," he said, adding it was working with Chinese partners in developing breakthrough artificial intelligence tools that could save lives.
The developing AI devices include a microscope that uses artificial intelligence to detect malaria in blood samples, which can accelerate the effort to eliminate a disease that is still killing over 450,000 people a year, and another device to deliver vaccines in a better way keeping them at the right temperature using only ice, making it easier to immunize children in places in Africa without a reliable electricity supply, Gates revealed.
TerraPower is also working with China in the area of nuclear power, which Gates believed could play a key role in meeting the world's energy needs. He has set out to invest in new technology that can support the kind of economic development China and other countries want, such as a traveling wave reactor to address concerns about nuclear power safety, cost, waste disposal and proliferation issues.
"Whether it's energy, health or other areas, I hope that this kind of innovation will provide a model for more international cooperation in the future. Taking in the talents not only of China and the United States, but other countries as well, we can build an atmosphere of innovation that improves lives all over the world," he added.