Rural festivals boost numbers of visitors, help relieve poverty
China Daily,October 12, 2018

Adjust font size:

A tourism festival was held in the heart of Hunan province from Sept 28 to 30, with the aim of promoting its rural tourism industry.

The 2018 Hunan Autumn Rural Tourism Festival formed part of a quarterly celebration that was jointly organized by the Hunan Tourism Development Commission, the Loudi city government, the Loudi tourism and foreign affairs bureau and the Xinhua county government.

For the opening ceremony, a grand symphony about local farming culture was performed with the spectacular landscape of Xinhua county's Ziquejie terraced fields acting as a backdrop.

Xinhua is a county under the administration of the central Hunan city of Loudi. Its terraced rice fields date back more than 2,000 years and form one of the most popular tourist destinations in rural Hunan. Autumn is considered the best season to visit Zijuanjie, as this is when the rice paddies turn golden before the harvest.

As part of the event, a food festival was held with on-site cooking demonstrations, featuring renowned chefs competing against each other and introducing the local cuisine to tourists, according to organizers.

The rural tourism festival has been held four times a year, corresponding with each of the four seasons, since its foundation. It has become a major driving force in the promotion of Hunan's rural tourism development and in producing new tourism projects for rural areas, by utilizing local cultural and natural resources.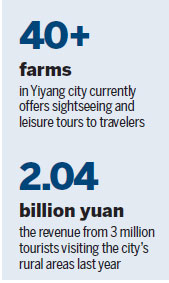 Hunan is home to a lush natural environment, much of it in the remote, hilly areas of the Wuling, Xuefeng and Luoxiao mountains, where clear waters, green hills and colorful farming cultures can be found.
Yiyang city in northern Hunan is one of the most successful examples of tourism integrated with agriculture. It has built itself into a national-level demonstration city for rural leisure tourism, with more than 40 farms offering sightseeing and leisure tours.
Last year, the city attracted more than 3 million visitors by holding a number of sightseeing and rural cultural events in its countryside.
At the same time, its income from rural tours reached 2.04 billion yuan ($296.85 million) and it was listed as one of the most beautiful rural tourism destinations in China by the nation's tourism administration.
Another example is Dong'an county of Yongzhou city in southern Hunan, which has issued a series of preferential policies to attract investment in potential rural tourism sites and guide farmers to develop their own tourism businesses.
To date, more than 100,000 residents of Dong'an have been engaged in and benefited from the rural tourism industry.
During the 13th Five-Year Plan (2016-2020) period, Hunan aims to use rural tourism as an important means of targeted poverty alleviation. It will do so by integrating local cultural resources, building rural tourism brands and improving services and facilities, according to an official at the Hunan Tourism Development Commission.