Enhancing the China-Africa Bond
China Today,September 26, 2018

Adjust font size:

THE Beijing Summit of the Forum on China-Africa Cooperation (FOCAC) took place in early September, against the backdrop of a profoundly changing world. Beijing was host to heads of states from across Africa, who met to discuss with their Chinese counterpart and implement plans of China-Africa cooperation. A host of new measures were introduced to push forward China-Africa partnerships and exchanges. Following the principle of achieving shared growth through discussion and collaboration; the two sides aligned the theme of this FOCAC with China-Africa partnerships under the frameworks of the Belt and Road Initiative, the UN 2030 Sustainable Development Goals, the African Union 2063 Agenda, and national strategies by each African state to blaze new trails for common development. The Beijing Summit is both a hallmark of Chinese diplomacy and Sino-African friendship. Having worked in Africa as a Chinese diplomat for more than a decade, I am genuinely gratified with the results.

Time-tested Staunch Friends

China and Africa are good friends and partners with long-standing solidarity and cooperation. China has been steadfast and committed to the relationship. Over the past 60 years since the People's Republic of China was founded in 1949, Chinese and African people have stood together through thick and thin. The friendship remains unshakeable and become even firmer with time. In the 1950s and 1960s, China offered substantial support to African people's fight for national liberation and independence, despite of its own hardships. As African states continued to cement economic and political independence, China continued to contribute within its means. Similarly, Chinese people will never forget Africa's support for China in safeguarding its national sovereignty and independence, especially when it worked to restore its legitimate seat in the UN. Such a long-standing friendship is the unbreakable foundation of China-Africa relations and the source of robust vitality for a China-Africa community with a shared future.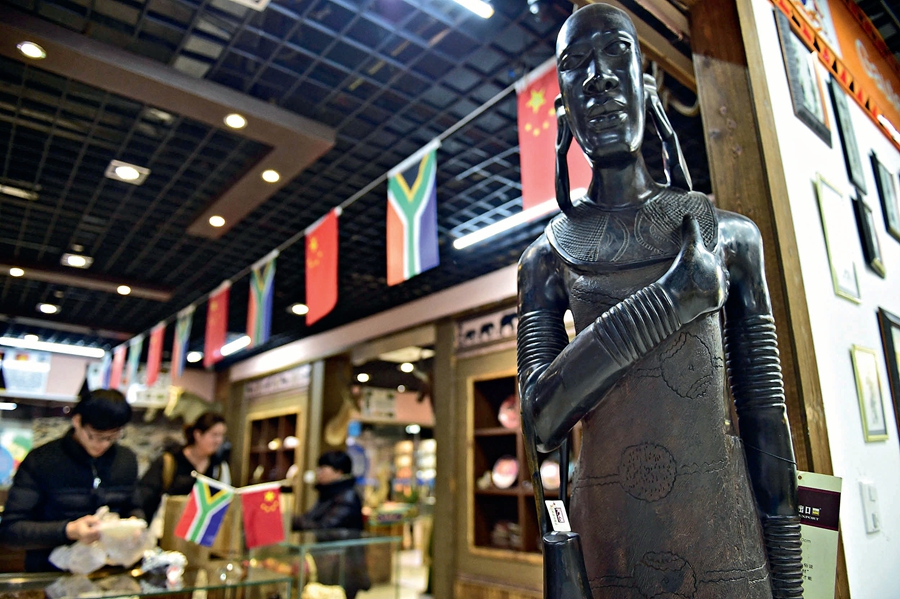 The African Products Exhibition & Trade Center of China Yiwu International Trade City.
Based on this, the first ministerial meeting of FOCAC was held in Beijing under a joint initiative in October 2000. The FOCAC officially became an exclusive platform for China to have collective dialogue and mutually beneficial cooperation with African countries and the largest and most effective platform for South-South cooperation.
Over 18 years, remarkable results have been accomplished in China-Africa pragmatic cooperation. China-Africa trade expanded 17-fold in 2017 compared with 2000, and China's investment in Africa skyrocketed 100-fold. China is contributing more and more to African economic growth. The FOCAC is also widely acknowledged as exemplary in South-South cooperation and international partnerships with Africa. As was strongly demanded by the members of FOCAC, the 2018 meeting was upgraded to a summit.
Stronger Relations in the New Era
In the new era, China is intensifying efforts in furthering its relations with Africa. When President Xi Jinping assumed office in 2013, he chose Africa as the first stop of his state visits. In 2018, President Xi again visited four African states in his first overseas tour since he renewed his term of office, stressing that the overall cooperation with African nations is China's strategic choice. At the FOCAC Johannesburg Summit in December 2015, President Xi put forward five pillars to cement China-Africa relation and 10 major cooperation plans in the next three years. They aimed to address the issues of poor infrastructure as well as insufficient talents or funding, and to accelerate industrialization and agricultural modernization in an attempt to realize independent sustainable development in Africa.
With joint efforts, China-Africa relations have been upgraded to a comprehensive strategic partnership. In the political area, high-level exchanges between China and Africa are more frequent. In the past five years, President Xi paid four state visits to Africa, and more than 60 African heads of state and government visited China or came to China for international meetings. The reciprocal visits and exchanges provide political guidance for future China-Africa relations.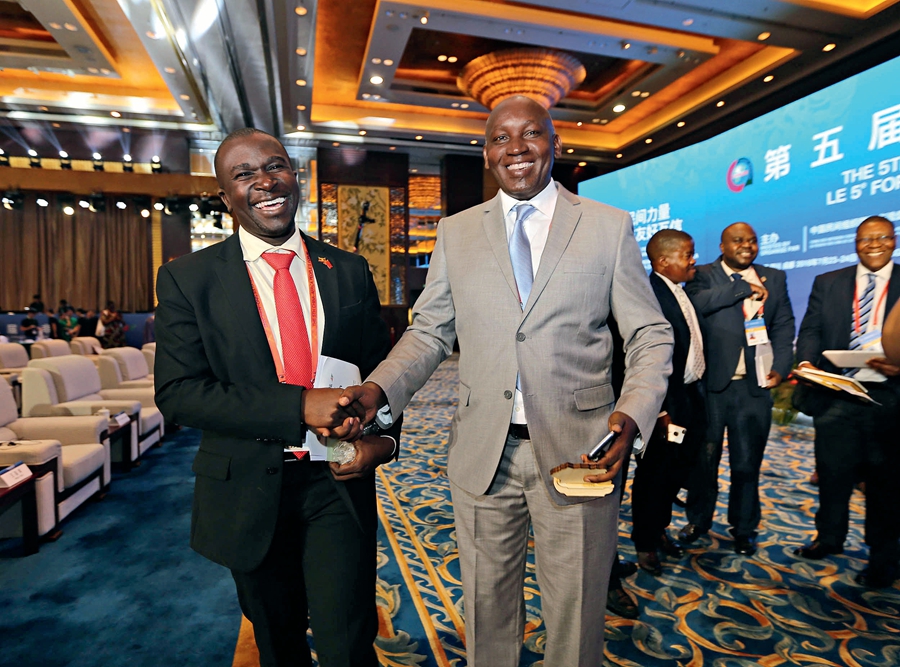 On July 24, participants and guests at the 5th China-Africa People's Forum in Chengdu brainstorm and exchange ideas.
The economies of China and African countries are getting deeply interwoven. China has been Africa's largest trade partner for nine consecutive years. In 2017, the trade volume amounted to US $170 billion. With over 3,100 Chinese companies operating in Africa, China has invested more than US $100 billion in the continent. With construction and operation of the Addis Ababa-Djibouti Railway and the Mombasa Nairobi Standard Gauge Railway on track, China is contributing to Africa's economic growth, employment, industrialization, and modernization.
The booming people-to-people exchanges are also inspiring. As an important birthplace of the world's civilizations, Africa has a diverse culture. The two ancient civilizations reinforce each other in mutual learning with people-to-people exchanges, which place emphasis on localization and the people. It signals that China-Africa relations are growing on an equal footing. Annually, China hosted some 30 cultural events and 50 people-to-people exchange programs in Africa. Direct exchanges between think tanks, universities, media, and non-governmental organizations have been institutionalized, further promoting mutual understanding between peoples.
China-Africa cooperation in peace and security is strengthening. China firmly supports Africa in building its capacity for independently maintaining peace and stability, including its efforts in launching the African Standby Force and the African Capacity for the Immediate Response to Crisis. Among the five permanent members of the UN Security Council, China sends the most peacekeepers to Africa. It takes a proactive role in anti-piracy operations in Somalia and had dispatched 29 fleets for escort missions. China also plays an active part in solving sensitive issues in Africa, like the South Sudan issue, through diplomatic mediation. I am so pleased to see that the Sino-African relations have brought tangible benefits to both sides and also increased attention and investment to Africa from the international community.
The Belt and Road Initiative Warmly Welcomed
In 2013, President Xi proposed the Belt and Road Initiative to promote connectivity through infrastructure construction among involved countries and align each other's development strategies for common growth. The initiative was warmly welcomed by African countries that are keen on working with China under the framework. China, for its part, wants to inject new vitality to China-Africa cooperation and upgrade the mutually beneficial comprehensive strategic partnership to a new level through promoting the Belt and Road Initiative. While preparing for this Beijing Summit, the two sides reached a consensus on highlighting this initiative.
In the past five years, the initiative has evolved from aspiration to actions, becoming the most popular public goods in the international community. China has sealed agreements with 86 countries and international organizations in carrying out the initiative, many of which are from Africa. The continent is an indispensable part of the ancient Silk Road as explorer Zheng He from the Ming Dynasty (1368-1644) left both sides with cherished memories. Now, it should never be absent in renewing the grand initiative. Africa is a continent with the most developing countries as well as the greatest development potential. The Belt and Road Initiative is not just about infrastructure, but a new path to the future through innovation, with which Africa will be enabled to peacefully rise to a major force in the new world order.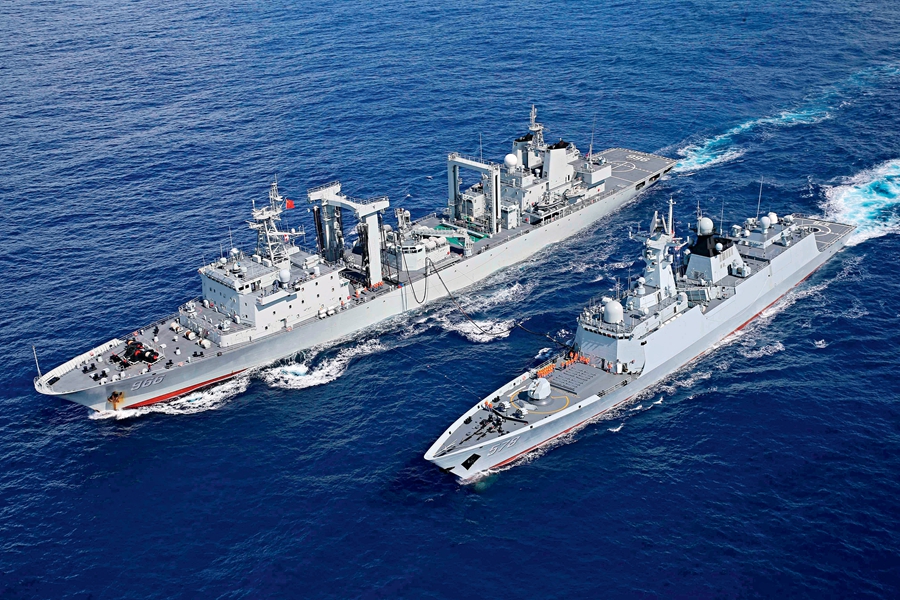 On April 6, 2018, the 26th Chinese navy convoy fleet replenishes supplies en route to the Gulf of Aden and the waters off Somalia.
In synergy with African countries' national development strategies, the African Union 2063 Agenda and the UN 2030 Sustainable Development Goals, the Belt and Road Initiative is injecting robust vitality to African growth and pushing forward its industrialization. Recently, China has validated the initiative with projects in various sectors of Africa such as poverty alleviation, food security, innovation, infrastructure construction, and industrialization. About 10 years ago, 80 percent of China's imports from Africa were crude oil and raw materials. Now, the proportion has shrunk to 53 percent, indicating that businesses across the world are optimistic about the prospects of the African economy and transferring manufacturing industries to the continent for its cheap labor.
With complementary economies, China and Africa are promoting cooperation in various sectors, especially focusing on cooperation on industrial capacity. The partnership has expanded to the hinterland from the coastal regions, facilitating the diversification and upgrade of the African economy and improving the livelihood of thousands of people by creating jobs. With joint efforts, the Sino-African comprehensive strategic partnership has been embodied in multiple areas and levels for the interests of tens of millions of people. China will continue to support Africa's revitalization efforts by adhering to the principles of sincerity, practical results, affinity, and good faith.
Embracing a Community with a Shared Future
In the new century, the multi-polarization, economic globalization, and cultural diversification continue, resulting in an international community with interwoven interests and deeper interdependence. No country can wall itself off from the consequences of a sluggish world economy, widening income disparity between the rich and the poor, frequent regional turmoil, and rampant terrorism. To address the issues through cooperation, President Xi put forward building a new type of international relations and a community with a shared future for mankind. The idea is widely recognized in the international community and was incorporated in a UN document.
Promoting the China-Africa community for a shared future and win-win cooperation is acting on the call of building a community with a shared future for mankind. A unique model for cooperation in line with the historical trend and the realities of the two sides has taken shape. They are sincere partners in development and work for common prosperity through win-win cooperation.
Being developing economies, China and Africa share common interests, demands, and aspirations in international affairs. They are natural allies. At present, Sino-African relations are well positioned at a new starting point. As President Xi put it when finishing his state visits to four African nations in late July, "China and Africa constitute a community with a shared future and shared interests through win-win cooperation. No matter what changes take place in the international situation and no matter how its economy develops, China will stand firm with the developing nations and be a sincere and trustworthy friend for Africa."
When the largest developing country and the continent with the most developing nations maintain close partnerships, and 2.5 billion people join hands, both the Chinese and African peoples are bound to enjoy tangible benefits. The China-Africa community, with a shared future, will exert a positive influence on the world. The FOCAC Beijing Summit will further consolidate China-Africa relations at a new historical starting point and accelerate the building of the China-Africa community with a shared future, which is constructive to world peace and prosperity and the building of the community with a shared future for mankind.