China's growth impressive, inspiring: Leaders of communist parties
China.org.cn,June 27, 2018

Adjust font size: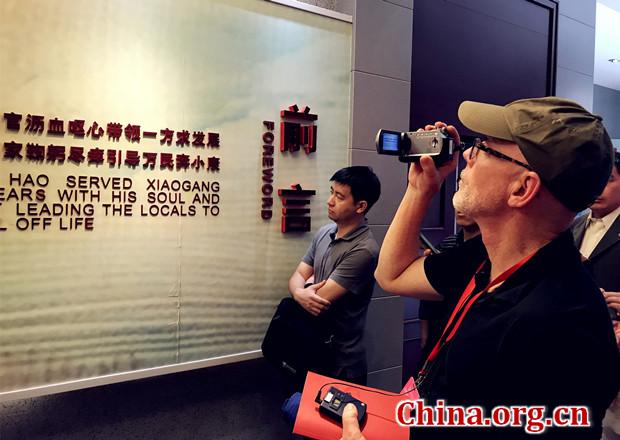 John Bachtell (R), chairman of the National Committee of the Communist Party USA, visits a museum in Xiaogang village, Fengyang county, east China's Anhui province, on June 1, 2018. [Photo by Guo Xiaohong / China.org.cn]
John Bachtell, chairman of the National Committee of the Communist Party USA, who also visited Xiaogang village for the Wanshou Forum, hailed China's growth after reform and opening up as impressive and inspirational. "China's success gives me a lot confidence in the ability of people to find the right way of their own for development; and confidence in the role the Communist Party can play," said Bachtell to China.org.cn.
China is leading a people-centered development process: putting people before everything else but using the market as a way to accomplish it, said Bachtell.
Chinese people have found a way of building socialism. What the country has done and achieved on such a scale and in such a short time confirms that socialism has a future, he said. The experience accumulated so far is valuable not only to the third world but also to advanced countries, including lessons in poverty alleviation and rural development.
Bachtell hoped to up the level of cooperation and exchanges between the CPC and his party.
Chandra Prakash Mainali, general secretary of the Communist Party of Nepal, who attended two conferences in the Shenzhen Special Economic Zone and Xiaogang village, said he has been to China many times since 1983 and has witnessed the tremendous progress after reform and opening up.
China is a responsible country which has been pursuing a road that provides prosperity, peace and development not only for itself but also for other countries. That's why the China-proposed Belt and Road Initiative is gaining more and more support. The initiative promotes connectivity between countries, said Mainali.
He believed that more collaboration will be conducted between Nepal and China after the two sides inked the MoU of economic cooperation in 2016.
Juan Castillo, general secretary of Communist Party of Uruguay, labeled China's reform a people-oriented, healthy and sustainable development process. "Communist parties in Latin American countries also hope to implement such practices to enhance people's livelihood and promote social equality," said Castillo who was also in Xiaogang for the Wanshou Forum.
Elizabeth Rowley, leader of Communist Party of Canada, complemented China's policies for employment, healthcare and environmental protection in her speech at the Wanshou Forum. She said China has played an important role in safeguarding world peace and development due to its international policies on issues like climate change and peaceful diplomatic policies.
"As international parties, we need to have more dialogue and exchanges to share stories and find solutions for many thorny issues," said Rowley.
In May and June this year, China has hosted a conference and forum in Shenzhen, one of China's earliest special economic zones, and in Xiaogang, a village at the forefront of China's rural reform, respectively. Altogether more than 100 international political parties have shared their insights on China's reform and global governance.