Narrating 2.0 – The Boom of Audio Sharing Portals in China
China Today,May 28, 2018

Adjust font size:

The raspy voice of the tribal elder interweaves with the crackle of the campfire and the rustling of the leaves in the evening air as he narrates tales of wild beasts and courageous warriors. Elsewhere, the sound of pages being turned as a mother reads fairytales, while the children, faces buried up to their noses under blankets, listen with rapt attention, eyes wide open, spellbound by night time stories that carry on in dreams. These or similarly idealized yet archaic scenarios come to mind whenever storytelling is brought up.

But in 2018, the age of ubiquity of screens of every shape and size from smart phones, HDTVs, gaming PCs and consoles, 3D IMAX movies, VR glasses and augmented reality – has the allure of oral storytelling still held up? Or will it soon join the rank of extinct traditions of bygone eras such as flip books or puppet shows?

Man as a Narrative Animal

The ability to tell stories, as many scientists agree, probably brought our species decisive evolutionary advantages. It enabled humans to pass on valuable experience in oral tradition from one generation to the next, long before the invention of writing, paper, or other media for storing information.

Fictional stories, told according to well-established, familiar patterns, enabled our ancestors to go through physical and emotional encounters, to make and share experiences, and to learn from them without putting themselves in actual danger.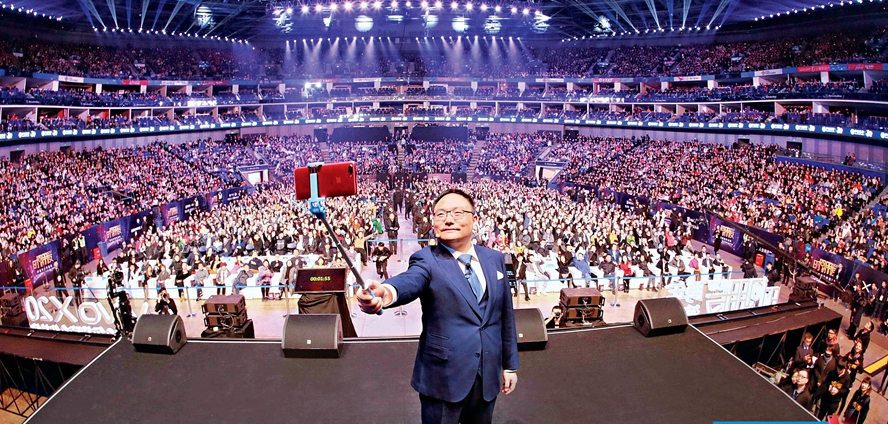 Luo Zhenyu, a former TV producer, gained popularity through an audio sharing app.

In this sense, as it is assumed today, orally told stories functioned as a kind of virtual training. They were able to take us to other worlds, to confront us with unknown situations and problems. Through them, we accompanied their protagonists in coping with their adventures and difficulties and drew our lessons as individuals or groups out of it.
Even today, stories certainly still fulfill this function. What has noticeably changed though, are the modes and media of transmission. Instead of our mental cinema, nowadays the Internet and rich multimedia experiences elicit endorphin rushes and goose bumps.
But is oral narration, the most original form of storytelling, in this digital age, only a relic of evolution that will soon disappear completely from the scene? One day perhaps – but certainly not yet, this is currently impressively shown in China!