Oil-Paper Umbrella: Artwork and Accessory
China Today,May 28, 2018

Adjust font size:

Alone holding an oil-paper umbrella, I wander along a long and solitary lane in the rain. Hoping to encounter a girl like a bouquet of lilacs, gnawed by anxiety and resentment," quoted from A Lane in the Rain by Dai Wangshu, a famous Chinese poet in the 20th century.

Since the poem was published, oil-paper umbrella, lilacs, and a lane in the rain have become symbols of areas south of the Yangtze River featuring misty and rainy weather.

The oil-paper umbrella, with a history of over 1,000 years in China, used to be a water-proof accessory for daily use. It is named so because the umbrella's surface is made of paper brushed with tung oil. In the 1880s, Fox Umbrellas introduced the steel umbrella frame, making the umbrella more convenient to use and achieved mass production. Most umbrellas today adopt the light steel ribs invented by Fox Umbrellas. By the last century, steel-ribbed umbrellas spread to China and gradually replaced the oil-paper umbrellas as they were easy to carry and priced much lower. The oil-paper umbrella thus became less used in daily life, instead turning into a decorative artifact.

History of the Oil-Paper Umbrella

There are different stories about the origin of the umbrella from China. The most popular one is related to Lu Ban (c.507-444 BC), a famous Chinese carpenter and builder. It is said that once he travelled with his younger sister to the West Lake in Hangzhou City. When it started raining, the sister said: "Let's have a competition – whoever comes up with an idea before sunrise tomorrow to enable us to travel to the West Lake in the rain will be the winner." Lu Ban thought it is easy. He collected some tools and timber and spent the whole night building 10 pavilions around the lake. He was quite confident about his efforts. However, the next morning, when Lu Ban was bragging about his achievements, his sister held a contraption in her hands, which could be opened into a round shape, resembling the roof of the pavilions made by Lu Ban. Lu Ban felt amazed by it. He found the item made of silk fabric and bamboo strips could also be closed into a cane and opened as a cone. It was light, portable, and beautiful. He conceded defeat. "Your portable 'pavilion' can shelter us from rain and it is easy to carry," said Lu Ban. And thus, the umbrella was invented. Later when paper was invented, people used much cheaper paper to replace silk fabric, reducing the umbrella's cost. To make the umbrella water-proof, people brushed tung oil across the surface. That was how the oil-paper umbrella was invented.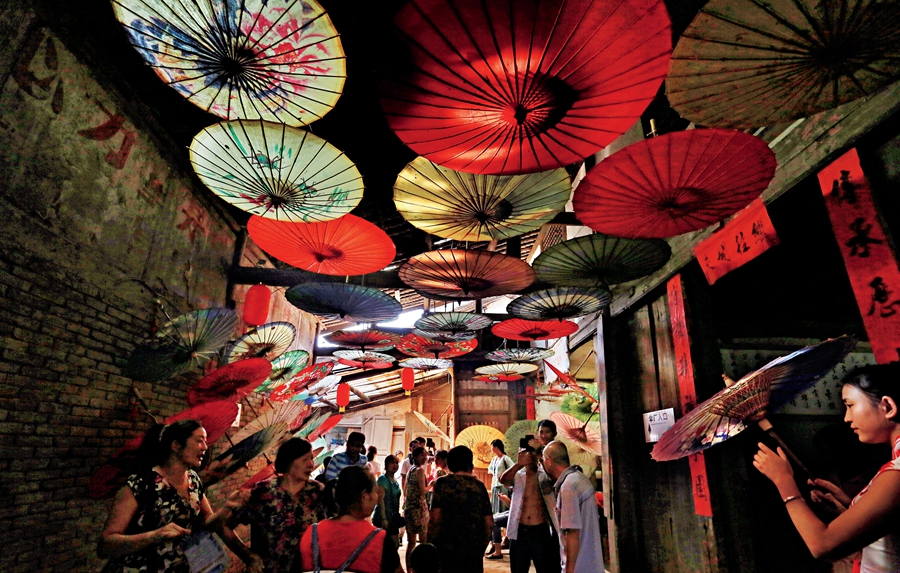 The oil-paper umbrella made in Luzhou City has a long history and been included into the list of national intangible cultural heritage since 2008.
The Tang Dynasty (618-907) saw increasing exchanges between China and other nations. The oil-paper umbrella was introduced to neighboring Asian countries and regions such as Japan, Korea, Vietnam, Thailand, and Laos, where it gained different names and developed different styles according to local culture and customs. For example, the oil-paper umbrella in Japanese culture is often associated with geisha, traditional dance, and tea ceremonies.