Revive an Ancient Opera
China Today,May 28, 2018

Adjust font size:

Writer and cultural researcher Yu Qiuyu wrote in his Where Does the Flute Melody Go: "If a culture has fascinated a nation for a long time, it must be one that reaches deep into the national psyche. Several cultural fetishes with large followings emerged after Chinese culture and arts matured. The first are the Tang Dynasty poems, the second calligraphy, and the third, in my view, is the Kunqu Opera."

Kunqu Coming to Lincoln Center

Hao Meng studied Kunqu Opera for four years at the National Academy of Chinese Theatre Arts, but didn't start her career in this field after graduation. She was drawn back to the art after an incident in the U.S.

While visiting her brother, who was studying in the U.S., Hao Meng attended a party with some of his friends. For most of the time, they talked about a thesis her brother recently published in a professional journal. The language and academic barriers kept Hao Meng out of their conversation, which made her feel like an outsider.

Then her brother turned to her: "Hao Meng, sing a passage of Kunqu for us." She hesitated, as the opera genre only has a small group of lovers even in China. She was not sure how would it be perceived by foreign ears? At the encouragement of her brother, she performed a segment of The Peony Pavilion, and to her surprise, received warm applause from his American friends.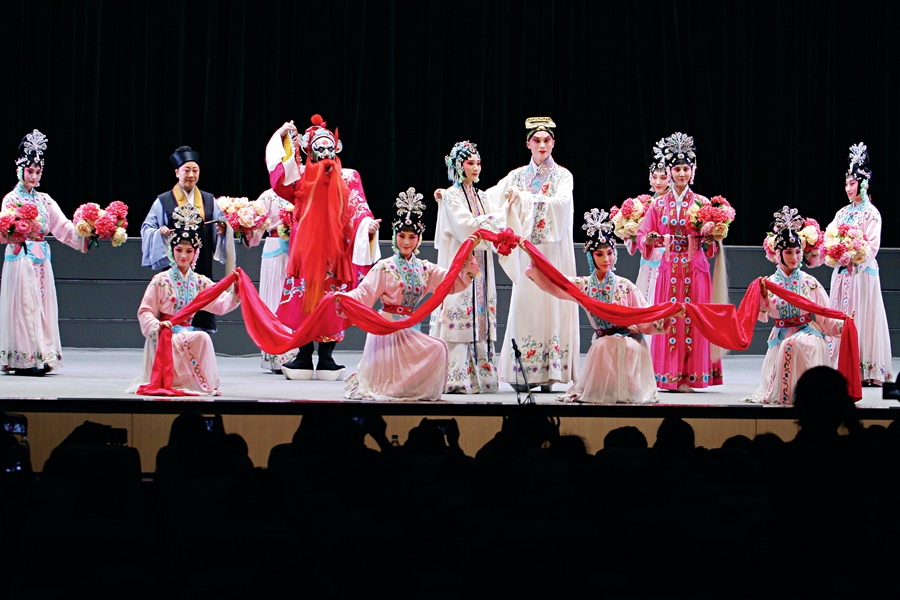 The Peony Pavilion is a masterpiece of Ming Dynasty playwright Tang Xianzu.
Days later at the Yellowstone National Park, Hao was impressed and inspired by local people's efforts to protect the local elk population. "The 600-year-old Kunqu only has 600 or so professional players today. Doesn't something of such cultural significance deserve more efforts to preserve it?" She thought to herself.
The oldest musical drama in China, Kunqu is called the mother of all Chinese operas, many of which have borrowed from or modeled themselves after it. Kunqu's influence waxed and waned in past centuries, but it has remained the standard-bearer for Chinese theatre arts, with unparalleled refinement of libretto, melody, choreography, and the subtle sentiments they convey. In 2001, it was proclaimed a Masterpiece of the Oral and Intangible Heritage of Humanity by UNESCO.
When Hao Meng disclosed her intention to launch a project to preserve Kunqu, not all her friends were optimistic. "Do you think there is 'rigid demand' for the opera in a society of market economy?" Some asked. "Not everyone sees self-confidence as a rigid demand," she replied. Eventually her friends and former schoolmates were convinced.
Last November, Hao founded the Belt and Road Kunqu Opera Theatre, which was inaugurated at a cultural industry forum in Beijing. Yang Fengyi, vice chairperson of China Theatre Association and president of Northern Kunqu Opera Theatre, hailed it as an innovative move of recruiting social forces in preserving and promoting this ancient art.
The newborn theater drew support from the cultural circle, investors, Kunqu educators, and foreign diplomats as well. "This testifies to the charm of Kunqu and the ardor of the general public to preserve and promote it," said Hao Meng. At the forum, she received a special prize from Kevin Lee, chair of the Sino-American Cultural Organization, and was invited to perform at the Lincoln Center this year.