Carbon trading: new alternative for cleaner environment
China Today by Haifa Said,May 17, 2018

Adjust font size:

China has always walked and continues to walk down the path of world environmental protection as a responsible leading superpower, having introduced the world's largest carbon trading market, a further step to help create a safer and cleaner environment for humanity.

China's efforts come amidst several contrary moves recently taken by the U.S., mainly the removal of climate change from a list of global threats in the new U.S. National Security Strategy announced on December 18, 2017, and the decision to withdraw from the 2015 Paris Agreement on Climate Change.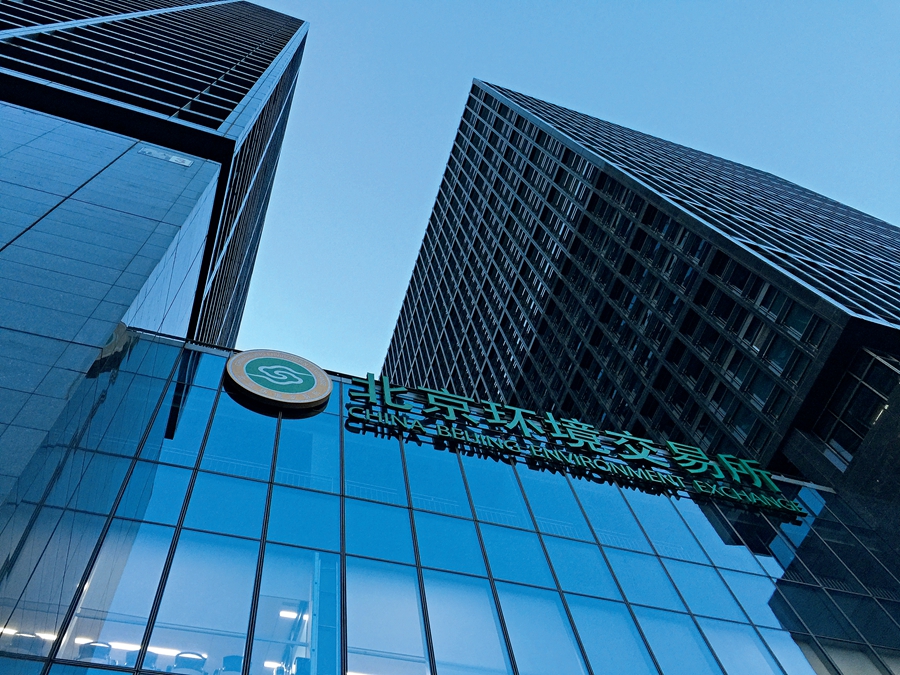 The China Beijing Environment Exchange. A pilot carbon trading project is initiated in Beijing in 2013.
Upholding the "America First" policy, the U.S. administration under President Trump seems to have developed a taste for protectionism and, within this context, is no longer willing to tolerate the Paris Agreement's carbon emissions cuts as it is determined to proceed with unimpeded industrial and economic growth.

This regressive track and signs of responsibility shunning on the U.S.'s part is likely to leave a negative impact on the global efforts in responding to climate change.
However, China is confidently stepping in to avoid this gap in the international climate action, belying earlier Western accusations lodged against it as being the "spoiler" of international negotiations addressing the global warming effects.
Beijing was accused of sabotaging the Copenhagen Conference talks in December 2009 by opposing a legally binding treaty, which, from China's point of view, favored the interests of developed countries at the expense of developing countries.
However, this negative perception of China is now outdated and of no validity, as China has seen a remarkable decline in coal consumption and carbon emissions over the past few years, having propped up its policy of shifting to alternative less-polluting energy sources.
China has started relentless work to accelerate the pace of shaping an overarching green strategy to address the environmental consequences of its economic development, as reflected in China's 12th Five-Year Plan (2011-2015), based on China's belief of the need for a serious response to climate change. The plan emphasized the necessity of making low-carbon industries the primary engine of the economy.
Low-carbon growth was set as a top priority for the Chinese government by the time the Paris talks were held in 2015, which eventually arrived at an agreement aimed at keeping the global average temperature rise well below two degrees Celsius above pre-industrial levels.
In fact, China's policy on global climate change has changed dramatically over the years since the Kyoto Protocol in 1997, which made climate action binding for rich countries, but only advisory for emerging economies, including China. At that time, China was only responsible for a fraction of global carbon dioxide emissions.
However, China's carbon emissions were rapidly increasing and by the 2009 Copenhagen talks, China finally began to formulate a climate policy with a goal of reducing carbon intensity by almost half by 2020.
When the 2015 Paris Conference negotiations were held, China was then the world's biggest emitter of carbon dioxide. At the talks, China pledged to reach its emissions peak by 2030 and curb fossil fuels as it will seek alternative sources to cover at least 20 percent of energy consumption.
While the U.S.'s retreat from the international arena to battle climate change under Trump might be seen by others as a pretext to slow down the fight, China seems rather determined to step up its efforts, showing an unswerving commitment to supporting climate change negotiations and the implementation of the Paris Agreement.
Chinese officials believe that pushing forward with this track will be in the best interest of their country in terms of boosting its efforts to achieve a low-carbon future, contrary to the U.S.'s choice to focus their efforts on domestic issues.
China is aware that achieving the prosperity it seeks for its people demands taking urgent measures to address the current and potential environmental effects of three decades of high-carbon growth, ranging between the suffocating smog and threats of water crisis, soil pollution, food security, escalating health and social impacts, and extreme weather events.
This awareness was clearly reflected in China's 13th Five-Year Plan (2016-2020), in which the Chinese leadership had set its priorities in line with the pressing need to make the Chinese economy more efficient in energy consumption, and to upgrade its capabilities to produce advanced low-carbon technologies of higher value.
In 2014, China released an energy strategy aimed at cutting coal use to no more than 62 percent of total energy consumption by 2020, and intensified efforts to stop coal mine work.
China has also become a leader in the industry of renewable energy, with the government investing heavily in the development of wind and solar energy.
The Chinese government has also given increased attention to building nuclear reactors, as nuclear power is one of low-carbon power generation sources.
According to the statistical communiqué on 2017 national social and economic development issued by the National Bureau of Statistics, while the consumption of coal increased in 2017 by 0.4 percent up from 2016, it only accounted for 60.4 percent of the total energy consumption, down 1.6 percentage points from 2016.
The communiqué, issued in February 2018, showed that clean energy consumption, such as natural gas, hydropower, nuclear power, and wind power, accounted for 20.8 percent, up 1.3 percentage points.
Carbon intensity also dropped by 5.1 percent in 2017 compared to 2016, the communiqué said.
Today, China's climate change handling efforts have culminated in the launch of a nationwide carbon trading program, announced on December 19, 2017 and considered to be the largest in the world – surpassing the European Union market and the California market, thus reinforcing China's role as a leader in the fight against climate change.
After a pilot carbon trading project was initiated in seven cities including Beijing since 2013, which saw a trading value of RMB 4.6 billion in November 2017, with emissions quotas exceeding 200 million tons, now the practice will be expanded on the national level.
The new market will cover major carbon-emitting sectors including electricity, steel, petrochemicals, chemical engineering, building materials, paper making, non-ferrous metals, and aviation.
According to the National Development and Reform Commission, China's top economic planner, the new market is expected to include some 1,700 power-generating companies in the country with estimated annual emissions of three billion tons of carbon dioxide.
Climate experts view this plan as a step in the right direction through targeting China's biggest power-generating industry, the world's largest coal consumer, with more than 50 percent of China's coal consumption coming from this industry.
Under the new market's scheme, each type of energy source, such as coal or natural gas, will have an emissions cap, and enterprises will be assigned emissions quotas. Companies that breach their emissions limit and exceed their quotas are allowed to buy unused emissions quotas from those that cause less pollution.
According to analysts and experts, by the time China's program is fully implemented from 2020 onwards, it is expected to cover about five billion tons of carbon dioxide, which accounts for roughly 15 percent of global emissions.
All these figures indicate that China might be ahead of its goal of capping emissions by 2030 and is on track to fulfill its promise to clean up its economy and reduce air pollution.
This also shows that China, by meeting its climate obligations, is serious about world safety and has the ability to be a reliable leader of the international efforts to reduce global warming.