Panda – China's National Treasure
China Today by Jiang Fumei,April 20, 2018

Adjust font size:

The panda is an ancient inhabitant of the earth. As early as eight million years ago, its ancestor began to live in the territory that now lies in China. Today, pandas, which mainly inhabit the mountainous regions of Sichuan, Shaanxi and Gansu provinces, have not only become China's national treasure, but are also widely loved by people of the world. In 1961, the panda became the mascot of the World Wildlife Fund.




Inhabiting deep mountains and forests, its black and white appearance is conducive to its hiding in the foliage and snow-covered ground to avoid being discovered by natural enemies. In addition to black limbs, ears, nose and tail, its eyes are surrounded by a circle of black hair, the area from chest to shoulder and the neck is also surrounded by a circle of black hair, and other parts are all white. However, there are exceptions; some of them have black abdomens, while others are white. In addition, due to factors such as sunshine and nutrition, some pandas are not pure enough in color, may be reddish, grayish, or brownish.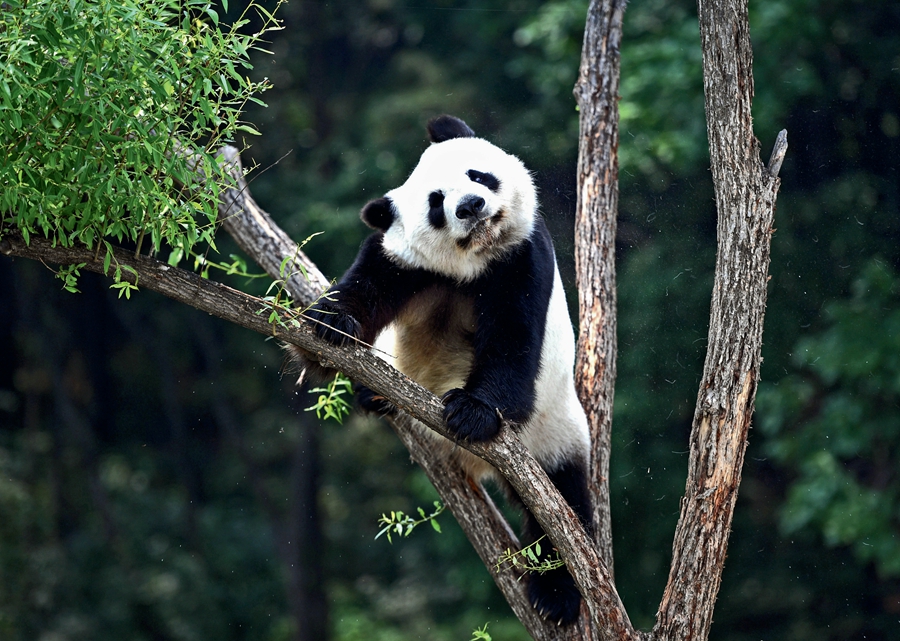 Pandas belong to the family of bears which are predatory mammals. However, pandas consume various kinds of bamboo as their primary diet, and they also eat weeds, flowers and vines. Their molars and masseter muscles are particularly developed, so they have strong chewing ability. Unlike general carnivores, pandas are more similar to herbivores. Pandas also retain the shorter intestines of carnivores; they do not have complex digestion and huge caecum that herbivores have for storing food. There is also no symbiotic bacteria or enzymes in their intestines and stomach that break down cellulose into absorbent nutrients. The only way to get the nutrition they need is to eat more, so pandas eat more than half the time each day.
Pandas are not completely vegetarian. Instead, they look for and catch bamboo rats hidden in bamboo groves, and love honey just as other bears do. They are also known to go after goats and will also consume ox meat if they come across a carcass.
The seemingly clumsy pandas are not slow runners, when encountering danger they can run as fast as the best athletes in the world. However, pandas often prefer to climb tall trees in times of danger. Its front paw not only has five toes, but also evolved a modified sesamoid bone – which not only helps it to grasp bamboo, but also makes it easy to climb.
The pandas also have a thick layer of skin under the fluffy exterior that allows them to adapt to the cold and humid climate of the mountains. When winter comes, instead of starting hibernation, pandas retreat from the mountainside into the relatively warm valleys. Even in winter there are still fresh bamboo leaves in the mountains it dwells in. In spring, there will be bamboo shoots, which the pandas are really fond of.
However, due to a majority of life spent in dark woods, pandas are short sighted, and for this reason possess a bit of clumsiness that has created that perception of them seen as cute.