Longquan Celadon
China Today by Song Xiaoyan,April 20, 2018

Adjust font size:

There is a saying about the history of Chinese porcelain. It goes that half of the history of Chinese porcelain is about the porcelain wares produced in Zhejiang Province, and half of the history of the Zhejiang porcelain is about the celadon wares produced in Longquan City. Longquan celadon, a type of greenish or grayish blue ceramic, is exceptionally amazing with its enchanting glazing color and exquisite craftsmanship, having enamored collectors for thousands of years.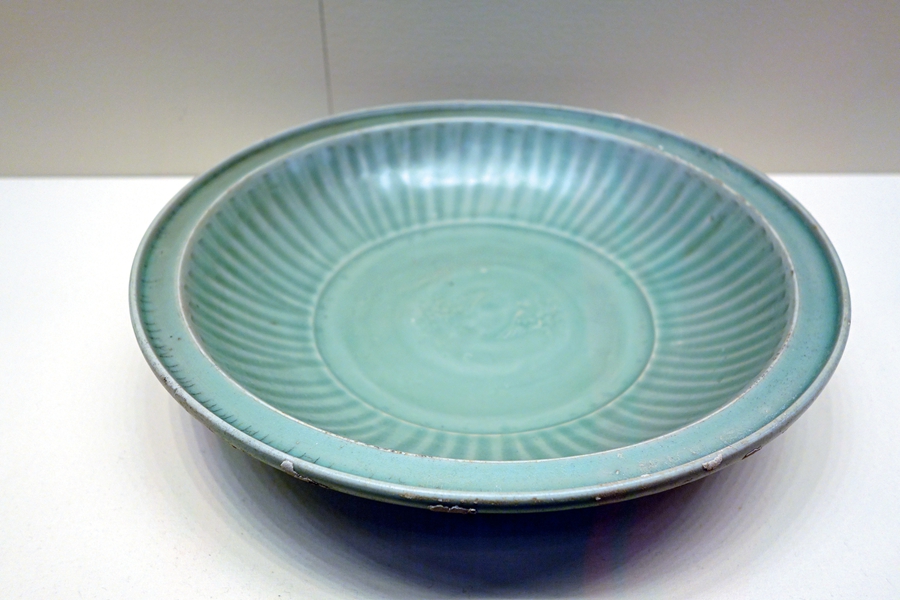 The Longquan kiln is one of the six famous kiln clusters of the Song Dynasty (960-1279). It was named so because the famous celadon wares are produced in the Longquan City of Zhejiang Province. The Longquan celadon first appeared during the Three Kingdoms (220-280) and Jin Dynasty (265-420), and achieved its zenith in the middle and later period of Southern Song Dynasty (1127-1279). Its craftsmanship has aggregated the achievements of traditional Chinese porcelain making. Its elegant styles and glazing color make it a paradigm of the Song ceramic wares.
The most striking feature of the Longquan celadon is its greenish or grayish blue glaze, which resembles the quality of jade. The body of Longquan celadon is rough and heavy, and the wall is relatively thick. The glaze is relatively thin, in a range of colors, such as plum green, pink blue, pea green, and crab-shell blue. Generations of Longquan celadon makers spared no effort to make the glaze as perfect as jade. Many celadon wares produced in famous kilns have been lauded by famous scholars and men of letters. However, only the Longquan celadon wares with plum green and pink blue glaze can be compared with the quality of jade. They both feature thick and opaque glaze, which give a lustrous and gentle effect.