New Tales in Old Courtyards
China Today by Lu Mingwen,April 20, 2018

Adjust font size:

A total of 56 courtyards built in different eras from the seventh century to the 1950s are scattered throughout the old town of Lhasa. The area surrounding Barkhor Street, the center of the city, boasts quite a few of these time-honored compounds. Having been renovated, these architectures showcase rejuvenated vitality.




Warmth of an Ancient Courtyard




Dekyi Lhamo in her 60s has lived in Rongzha Courtyard for more than half a century. "I moved here with my grandparents when I was five," she said. However, even a senior resident like her is not very clear about the exact origin of the compound's name.




According to archives, the location used to be the dwelling of a local official Rongtsaba. The yard we see today was rebuilt some 60 to 70 years ago. But the buildings behind the yard boast of a history going back many centuries.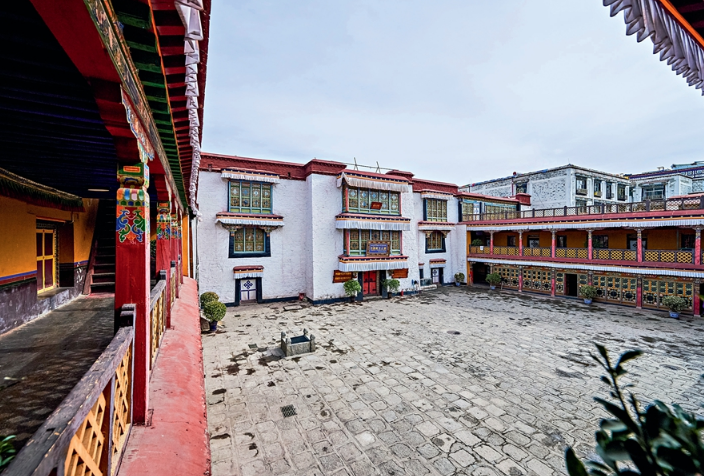 One of the old courtyards in Lhasa that has been renovated.
Dekyi Lhamo's home is on the third floor. After passing through the yard and a smaller gate, we had to climb two flights of almost vertical stairs before getting to her rooms. The compound was extensively repaired in 1999. "Pillars were severely damaged by insects and worms," Dekyi Lhamo recalled. "We were fearful and hoped for repairs." After a 15-month renovation, Dekyi Lhamo and her neighbors were amazed to see that the ceilings and pillars had been fixed while floors in rooms had been reinforced. To their delight, the restoration preserved the distinct original style and feel.
Nearly two decades have passed since the renovation and new signs of disrepair are emerging. Lately, cement is a necessity in Dekyi Lhamo's home as she has to repair the roof after every downpour. Hence, the compound is on the government's list to undergo a second round of restoration.
Around three years ago, Dekyi Lhamo was proudly elected by her community to coordinate daily affairs of the compound on behalf of the 16 households. Among the 16 households, 10 of them have been here for a long time while the rest are migrant tenants. Though the residents are from different ethnic groups such as Tibet and Hui, they are likely to go to Dekyi Lhamo for advice when they get into any difficulties or conflicts. Meanwhile, Dekyi Lhamo is always ready to give help to her neighbors.
Demonstrating talent for singing and dancing at a young age, Dekyi Lhamo was enrolled into an ensemble affiliated with a leather factory in Lhasa. Over the years, she has taken various kinds of jobs – from a carrier to a construction worker. But her income did not see substantial rise until the 1980s when she started to take photos for tourists on the square in front of the Jokhang Temple, a must-see attraction of Lhasa. "I charged RMB 2 for taking a picture. So I could make a profit of more than RMB 350 a month," Dekyi Lhamo recalled, "it was high income at that time."
Using her first bucket of gold, she opened a teahouse in Rongzha Courtyard along with two friends. The teahouse added vitality to the old compound. After a few years, she opened a chess and card room in the outer section of her home, providing a recreational place for local residents. Her business has not only benefited her life, but also improved the relationships within the neighborhood.

Last year her husband Ngawang Qunyang set up a studio in his hometown of Medro Gongkar to promote handicrafts of ethnic groups. He has been a frequent traveler between Lhasa and Medro Gongkar for years. But Dekyi Lhamo has always regarded Lhasa as her home and never thought about moving to Medro Gongkar with her husband. "Who is going to take care of my house and look after my granddaughter had I left?" she often asked herself in the past. Although her granddaughter Lhapa Drolma has now left home to study in a senior high school in Chong-qing Municipality, she is still reluctant to leave the courtyard where she was raised.
It is the most pleasant pastime for her to admire the Potala Palace, the Jokhang Temple, and other old courtyards in the vicinity from her rooftop. "This architecture offers superb views and lighting. How would I part with it?" Dekyi Lhamo said. Her emotion is shared by her neighbors who are wholly supportive to the maintenance project implemented by the local government. "Having been listed as a cultural relic site, this compound will be renovated on the basis of maintaining its original shape. If no measures are to be taken, we will lose these ancient buildings forever," Dekyi Lhamo stated. Her face glowed against the background in which the golden rooftop of the Jokhang Temple basked in the sunset. Her words expressed everyone's hope for the future in Rongzha Courtyard.