Beijing takes fresh look at bike regulation
China Daily,April 16, 2018

Adjust font size: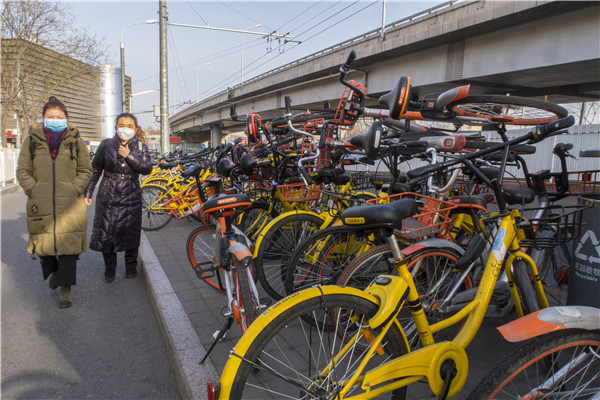 Two pedestrians walk past shared bikes that are randomly piled by the side of a road in Beijing in January. [Photo by Zhao Rong/For China Daily]
Beijing's top lawmaking body considered new regulations on Thursday that were designed to strengthen the management of shared bicycles.
The booming shared bike industry came with a down side for the city, including improper parking, poor management and other problems. To address the issues, the Standing Committee of the Beijing Municipal People's Congress is looking at a number of new measures.
For example, a fine of up to 50,000 yuan ($8,000) would be applied if a shared bike company fails to exercise reasonable control over the quantity of bikes and refuses to make adjustments, said Chen Yong, chairman of the congress' Commission for Legislative Affairs.
More than 2.2 million shared bikes have sprouted up in Beijing, according to the Beijing Municipal Commission of Transport, 200,000 beyond the city's demand.
"It is important to use local regulations and laws to manage the problems that shared bikes have brought," said Li Fuying, director of the city government's legislative office. "The proposal also provides new direction for the companies to strengthen their own measures."
Some companies failed to own up to their responsibilities and created even bigger problems, Li added.
The proposed regulation, for instance, requires shared bike companies to return users' deposits in a timely manner when asked for a refund.
A rental bike supervision platform-to be set up by local transport administration departments-will manage the rental bike companies' service activities, is also suggested.
And companies would be prohibited from adding more bikes in places where the total number has already hit its upper limit.
"It's the right time to put shared bike management into legislation," said Zhu Wei, deputy director of the China University of Political Science and Law's Communication Law Center. "Beijing set a good example for other places. The government should not pay the cost to develop shared bike companies."
Mobike Technology Co, one of China's biggest bike-sharing companies, said it agrees with the proposed legislation.
"It's good to have the government keep an eye on the industry and guarantee quality in shared bikes," said Cui Shufeng, director of Mobike's government relations department.
Cui noted: "We have also used big data to cooperate with urban planning departments in the design of convenient bike parking spaces."
The company also expressed hope that the government would build a database of electronic plates for shared bikes to govern the total quantity of bikes in Beijing.