Teacher advocates for better disability welfare
China.org.cn by Zhang Rui,March 07, 2018

Adjust font size:

Zhang Lili, a disabled teacher appealed for a more disability-friendly environment in China at the annual session of China's top advisory body.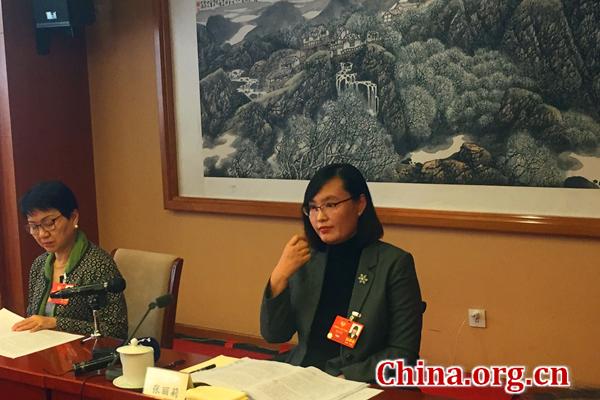 The member of the 13th National Committee of the Chinese People's Political Consultative Conference (CPPCC), said on Monday in Beijing that one of her three proposals included to build more barrier-free toilets.
"While the domestic barrier-free construction is improving, the Ministry of Housing and Urban-Rural Development and the China National Tourism Administration still need to increase the coverage rate of barrier-free toilets," she said and urged that when a toilet is being built or modified, it should be constructed according to the exact construction standards.
"A local supervision mechanism and daily maintenance should also be established," she added.
Zhang, a teacher from a high school in Jiamusi, Heilongjiang province, lost her legs in 2012 when she pushed away from danger and thus saved her students in a serious accident involving four cars. Internet users have nicknamed her "the most beautiful teacher" for her brave act. She's still a teacher and has given birth to a new baby three months ago.
As a new member of the CPPCC, Zhang focusses on the welfare of a special group of people. Her other two proposals were to optimize the minimum subsistence allowance system to promote employment and business start-ups for disabled people, and to loosen the administrative licensing for disabled individuals to drive motor vehicles so that they can have better access to employment opportunities.
The teacher has carefully read the annual government work report delivered by China's Premier Li Keqiang at the opening ceremony of the first session of the 13th National People's Congress (NPC), and found out the work report directly mentioned the disabled in seven different places, including aiding disabled people to find a job, developing special education and preparing well for the Winter Paralympic Games in Beijing.
"It appears to me that the government is really thinking about the disabled citizens, and their work has improved our feeling of happiness and sense of improvement," she said.
The first session of the 13th CPPCC National Committee runs through March 3 - March 15.