Nation's athletes put to test with 2022 in mind
China Daily,February 01, 2018

Adjust font size: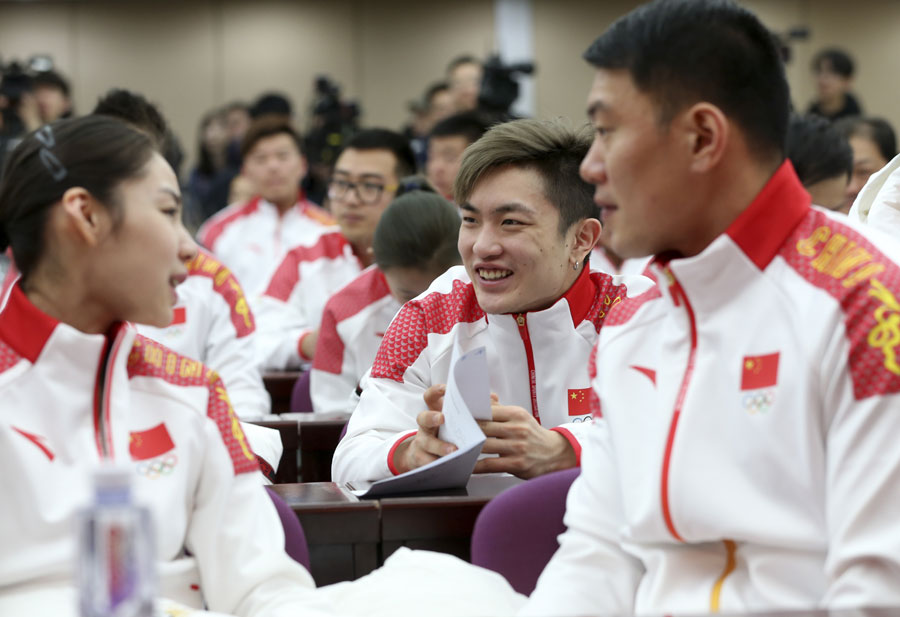 Figure skaters (from left) Yu Xiaoyu, Yan Han and Zhang Hao talk on Wednesday at a meeting before their trip to the Pyeongchang Olympics in South Korea. FENG YONGBIN/CHINA DAILY
China is determined to expand its winter sports prowess by sending its largest ever delegation to vie with the world's best at the 2018 Pyeongchang Winter Olympics.
In preparation for the Winter Games at home in 2022, China will dispatch a 186-member delegation, including 82 athletes, to participate in 55 events in five sports at the Pyeongchang Olympics in South Korea from Feb 9 to 25.
This comes as the nation is seeing breakthroughs in new events, and is the largest delegation since the country's Winter Olympics debut in 1980.
Chinese athletes will make their Winter Olympics debuts in Pyeongchang in 10 events-including freestyle skiing half-pipe, bobsled and parallel giant slalom in snowboarding-in an effort to diversify the country's winter sports strength.
"The Pyeongchang Games serve as an important rehearsal for our preparation for a more balanced performance at Beijing 2022," said Gou Zhongwen, director of the General Administration of Sport of China, in Beijing on Wednesday.
"We will work hard with full confidence to deliver the best results we can in Pyeongchang to push winter sports development forward leading up to 2022."
A world power in skating, China has 11 of the 12 Olympic gold medals on ice, with the only gold on snow contributed by freestyle skier Han Xiaopeng in the men's aerials at the 2006 Olympics.
To close the gap with strong skiing nations in Europe and North America, China has hired 20 foreign coaches, fitness trainers and technical experts to help improve the level in various Western-dominated events such as cross-country skiing, snowboarding and biathlon.
The Olympic qualification for four-man and two-man bobsled got a boost from such foreign help, given that China assembled a national team only two years ago-with athletes drafted from track and field-after Beijing won the right to host the 2022 Olympics in 2015.
"We started from scratch and now we will be racing at the Olympic track for the first time. It is a testament of our efforts and the innovation of using crossover talent and foreign know-how," said Ding Dong, a deputy director of the national winter sports administrative center.
Aside from the new events to watch, the traditionally strong short-track speed skating and figure skating teams carry China's medal hopes in Pyeongchang.
World champion figure skating pair Sui Wenjing and Han Cong will be expected to deliver a golden Spring Festival present to the home audience when they kick off the pair skating final on Feb 15, the eve of Lunar New Year.
Men's speed skater Wu Dajing has also proved his world elite caliber, which might earn him gold in the 500 meters in Pyeongchang, after winning that distance event at the Shanghai stop of the World Cup series with this season's world-leading mark of 40.01 seconds in November.