Beijing, nation get breath of fresh air
China Daily,January 22, 2018

Adjust font size: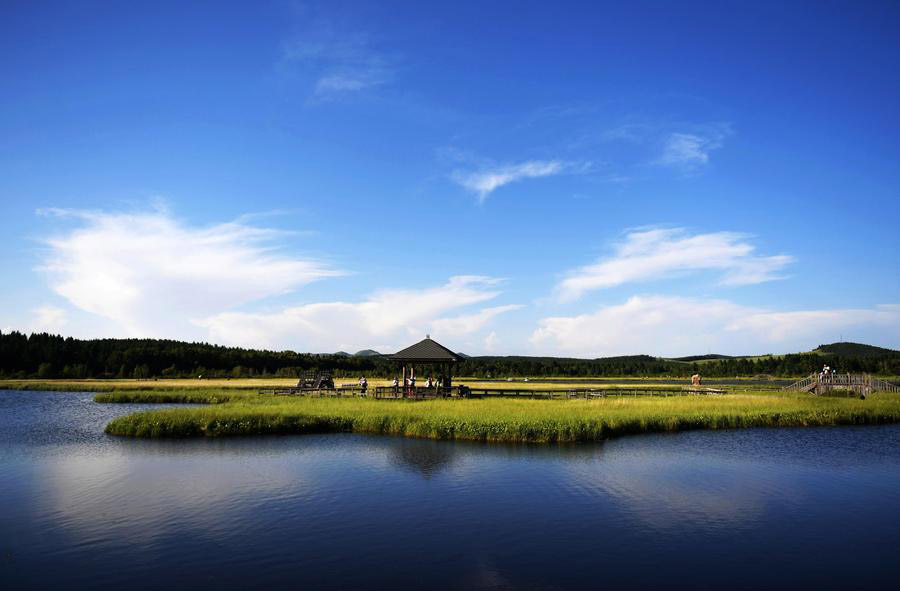 Photo taken on July 11, 2017 shows Saihanba National Forest Park, China's largest man-made woodland, in Weichang Manchu and Mongolian autonomous county in Chengde, Hebei province.[Photo/Xinhua]
Beijing residents experienced a December unlike any in recent memory, with the air quality as good as in southern coastal regions like tropical Hainan island. The clean air placed the capital for the first time among the 10 best cities for air quality, the top environment authority said on Thursday.
Like the capital's, the country's air quality also underwent improvements in 2017, the Ministry of Environmental Protection said.
In 2017, the average concentration of PM2.5-particulate matter that measures 2.5 microns or less and is dangerous to humans-in 338 cities in China had been reduced by 6.5 percent from 2016 levels, reaching 43 micrograms per cubic meter, the ministry said. There were 284 blue sky days last year, it said.
Blue sky days refer to the days with good air quality, when the day's average air quality index is lower than 100.
"By 2035, China will see the fundamental turn for good in the environment," Li Ganjie, minister of environmental protection, said when presenting the ministry's goals in October. One index that should illustrate the improved air quality by then is the PM2.5 concentration, which is projected to fall to 35 micrograms per cubic meter.
Outpacing the national average in improving the air quality, the Beijing-Tianjin-Hebei region saw more dramatic changes last year, especially during the winter, the ministry said in a statement.
In December, the region around the capital, prone to smog in winter, experienced 65 percent of the days having blue skies on average, up by 34.1 percent year-on-year, the ministry said.
Besides, it's the first time that Beijing squeezed into the best 10 list among the 74 major domestic cities, ranking ninth in December.
The 10 best cities usually are in southern coastal regions like Xiamen, Fujian province, and Haikou, Hainan province, or the regions with limited industrial growth like Lhasa, Tibet autonomous region, and Zhangjiakou, Hebei province.
"It's beyond imagination to see Beijing listed in the top 10 in December during the smog season in the past year, a delightful surprise," Ma Jun, director with the Institute of Public and Environmental Affairs, a Beijing-based environment NGO, said on Thursday.
It showed the comprehensive controls, including reducing coal consumption, shutting down companies that pollute, limiting the use of vehicles and strict inspection, worked, he said, adding windy days also helped.
Compared with the southern region, the Beijing-Tianjin-Hebei region needs to speed up. In 2017, the average PM2.5 in the region was 64, while in the Pearl River Delta it was 34 and in the Yangtze River Delta it was 44.