Baseball Becoming Popular in China
China Today,January 12, 2018

Adjust font size:

FOR the majority of Chinese people, baseball remains a complicated sport. But these days, things are starting to change. The interest in the typically Western sport has been on the rise for years. The formation of more and more Chinese baseball leagues and clubs have also seen an increasing number of programs teaching baseball to Chinese children. From its humble origins almost a century ago, baseball is starting to become more popular in the most populous country. Involving an artistic combination of individual attention and strategic teamwork and communication, perhaps baseball will be the perfect sport for China.

Not a Young Sport in China

The beginning of baseball in China traces back further than most would think. In 1863, the Shanghai Baseball Club was established; around the same time (in the late 1870s) that a young Sun Yat-sen, who led the revolution to overthrow China's last imperial dynasty, was learning to play the game at his brother's house in Hawaii. He later created a baseball association in China to cover his revolutionary activities.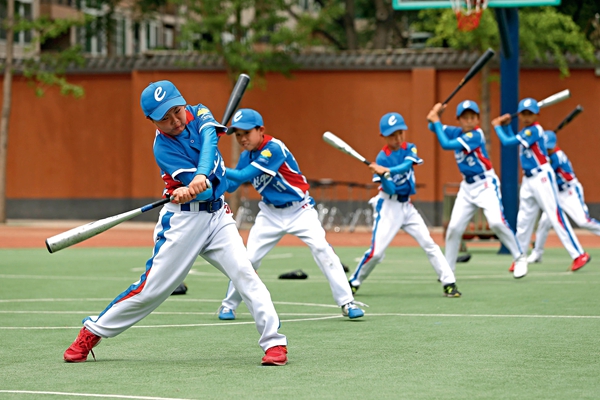 A baseball league of the primary school affiliated to Capital Normal University in Beijing receives training.
From that time, Chinese universities soon began to stage baseball activities and, as expected, tournaments were established; the first game, as documents recorded, was held in Shanghai between St. John's University and YMCA of Shanghai in 1905. National interest in this traditionally American sport picked up quickly, and in 1915, China placed second in the Greater Asia baseball tournament held in Shanghai. Several decades later, baseball was as big as it would ever be. In 1959, teams from 30 regions came together in a national competition.
The opportunity to capture a huge new market with China's growing interest saw the Major League Baseball (MLB) open its first China office in Beijing in 2007, and has since developed the Chinese market and educated young athletes. An example is the youth baseball program Play Ball! in major Chinese cities. This program helps Chinese schools integrate baseball into their physical education curriculum, build professional development centers, and sponsor Beijing's college league. Furthermore, the MLB has three centers in Jiangsu Province which work to find and nurture future baseball talent. One such example is Xu Guiyan, a 19-year-old outfielder from Shenzhen, Guangdong Province, who was the first Chinese signed to a major league club, the Baltimore Orioles, in 2015.