Dali: A Charming Folk City
China Today,January 11, 2018

Adjust font size:

The Dali Old Town sits in Dali City, the seat of Dali Bai Autonomous Prefecture in Yunnan Province. The town first emerged as the capital of the Nanzhao Kingdom (738-937), and later served as the capital of the Kingdom of Dali (937-1095, 1096-1253). It used to be a political, economic, and cultural center of Yunnan for as long as 500-odd years.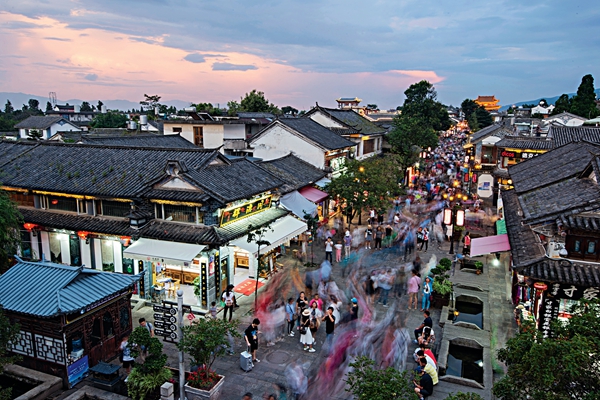 During the sunset, the Old Town of Dali comes alive with tourists and vendors along the streets.
Dali City is home to many ethnic minorities, with the number of Bai people accounting for over half of its population. Bai is the 15th largest ethnic minority group in China, and most of its people live in concentrated communities. The Bais have distinctive customs, and are good at architecture, wood carving, and painting.
Dali is renowned for its four sceneries in different areas. Its beautiful cloud scenery in Xiaguan Town under the influence of ceaseless wind due to the local geography, a flower-covered meadow in Shangguan Town, gleaming white snow on the Cangshan Mountain, and peaceful moonlight over the Erhai Lake.