First report on China's drug situation released
CRI, June 25, 2015

Adjust font size:

The report covers four main areas, including drug abuse, where drugs are sourced, the trafficking of the drugs and the overall situation.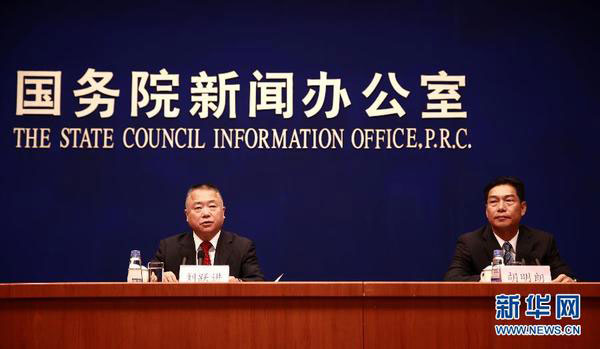 Liu Yuejin (L), a drug official with the Ministry of Public Security, speaks at a press conference by the State Council Information Office on June 24, 2015, where a new report connected to drug drade in China is released. [Photo: Xinhua]
Liu Yuejin with the Ministry of Public Security says drug abuse still remains a serious problem in China.
"First, the number of registered drug addicts has been rising. By the end of 2014, over 2.9 million drug addicts have been registered, while the real number of those who have used narcotics has exceeded 14 million. About half of those addicted are addicted to synthetic drugs. Secondly, drug users are becoming younger. Over half of the addicts registered are under the age of 35. The demographic is expanding to include employees of public institutions, freelancers and entertainers. Thirdly, 49-thousand drug addicts died last year."
Liu Yuejin also says the use of illegal drugs has cost the economy over 80-billion U.S. dollars this past year.
When it comes to the sources for drugs, Liu says areas south of China are still the main source.
"The drug producing areas abroad mainly include the Golden Triangle in Southeast Asia, which remains the largest drug source for China's traffickers, especially when it comes to heroin and methamphetamine (me-tham-'fe-ta-meen). The so-called Golden Crescent in Central Asia, as well as some sources in South America, are other areas where drugs arrive from in China. Domestically, the main sources for producing methamphetamine and ketamine ('kee-ta-meen) are in Sichuan and Guangdong."
The report says China captured 169,000 drug crime suspects last year, 60 percent of whom were under the age of 35.
Over a thousand foreigners were also busted in China last year in cases connected to drugs.
They hailed from 44 different countries mostly in areas such as West Africa, South America and Southeast Asia.
Liu Yuejin with the Ministry of Public Security says they're now working with law enforcement in other coutnries to try to stem the tide of drugs entering the country.
"First, we'll enhance cooperation with countries located near the Golden Triangle in Southeast Asia, since it's the most threatening and dangerous source for drugs to China. Secondly, we'll also strengthen cooperation with relevant countries like Russia, Pakistan, Iran and Afghanistan to deal with the Golden Crescent in Central Asia, especially through the platform of Shanghai Cooperation Organization."
The most recent stats suggest there are around 200-million drug users world-wide.