Marine Economic Zone to Drive Growth
China Daily, November 6, 2012 Adjust font size: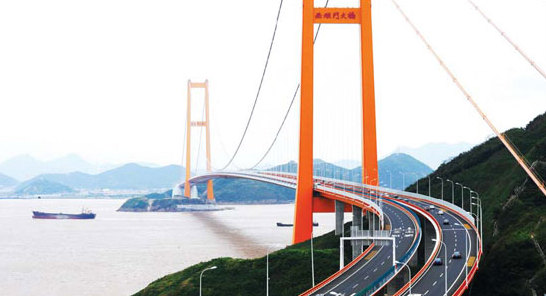 A glance of the Zhoushan Cross-Sea Bridge.
Zhejiang, a coastal province, is set to get a shot in the arm from the construction of an oceanic economic development demonstration area.
The State Council, the country's cabinet, has approved a plan for the Zhejiang Marine Economic Development Demonstration Area, which means construction of the economic zone has become a State-level strategy.
According to a statement by the State Council, an economic zone like this is an essential part of the country's oceanic development strategy and is also conducive to regional development.
The demonstration area has the potential to become an economic growth engine for the coastal areas, according to the statement.
Seven cities - Hangzhou, Ningbo, Wenzhou, Jiaxing, Shaoxing, Zhoushan and Taizhou - are included in the area.
Zhejiang province boasts abundant ocean resources.
There are more than 6,600 kilometers of coastal line in the province, the longest in China.
Deepwater berths above the 10,000-metric-ton level can be built along more than 500 km of its coastal line.
Most of these deepwater areas are within Zhoushan, making it an ideal place to construct world-class deepwater ports.
Fishing grounds near Zhoushan are among the top four fishing areas in the world.
There are nearly 3,000 sea islands in Zhejiang, accounting for 40 percent of the country's total.
The province also has 270,000 hectares of mudflats, part of which can be converted into land for construction to ease the shortage of land.
Meanwhile, Zhejiang can be a pioneer in utilizing clean energy from the sea because its numerous islands possess vast capacity to generate wind, tidal and wave power.
Thus, provincial authorities consider oceanic economy a breakthrough in terms of upgrading the province's industrial structure.
A complete marine industrial system has come into shape in Zhejiang in recent years.
Industries that rely heavily on water resources, such as petrochemicals, steel manufacturing and shipbuilding, are the traditional strengths of the province.
Meanwhile, burgeoning industries, such as ocean tourism, seawater desalination and marine biological medicine, have become strong new driving forces for its economic growth.
The province's gross marine production value almost doubled from 184.6 billion yuan (US$30 billion) in 2006 to 350 billion yuan in 2010.
Zhejiang is also leading the country in port logistics, shipping industry and utilization of seawater. By 2015, Zhejiang authorities aim for its gross marine production value to exceed 720 billion yuan.
According to the plan approved by the State Council, the Zhejiang Marine Economic Development Demonstration Area will consist of "one center and four demonstration zones".
With a convenient logistics network combining land and sea transportation, the province will build a trading center for bulk commodities, such as crude oil, mineral ores, coal and grains.
The four demonstration zones will focus on sea island development, modern oceanic industry, coordinated development of sea and land as well as clean energy from the sea.
The province set up a special fund of 1 billion yuan for the development of marine economy and another 1 billion yuan to finance a large batch of projects in oceanic industries.
A series of promotion activities have been launched for the Zhejiang Marine Economic Development Demonstration Area.
Jointly sponsored by the Zhejiang provincial government and the State Oceanic Administration, the second China Marine Economy Investment Fair just concluded on Sept 17 in Ningbo. It attracted more than 20,000 businessmen from China and abroad.
Zhejiang has also signed a number of strategic cooperation deals with dozens of ministries and financial institutions with the hope of gaining more support from the central government.