Fishing Village Lures Tourists with Face-lift
People's Daily, October 31, 2012 Adjust font size: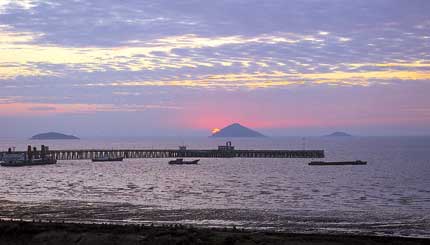 Jinshanzui (mouth of Jinshan) Fishing Village on Hangzhou Bay is Shanghai's earliest fishing village.
A well-preserved 2,000-year-old fishing village has been spruced up and now welcomes visitors with a bounty of seafood restaurants, authentic architecture, folk music and lots of sun, sea and sand. Tan Weiyun goes fishing.
Jinshanzui (mouth of Jinshan) Fishing Village on Hangzhou Bay is Shanghai's earliest fishing village, it arose more than 2,000 years ago, and is the only old-time fishing hamlet that has been preserved and remains functional today.
In Shanyang Town in Jinshan District, the village stretches along six kilometers of scenic coastline. It contains more than 2,000 farmers, more than 150 fishermen and around 300 other residents engaged in seafood processing, trading and catering.
Today after a face-life project, the village has become a magnet for tourists seeking fresh seafood, lots of restaurants, folk songs and plays and renovated architecture from the Ming (1368-1644) and Qing (1644-1911) dynasties. They immerse themselves in fishing culture.
In spring, summer and autumn, the long dock are crowded with fishermen who have just returned from other provinces and traders eager to buy their catch.
During the 1980s, the village flourished, having around 600 fishermen and 45 boats of all sizes. Because of over fishing, business suffered, fishermen sold their boats and went ashore. They started fish farming, processing aquatic products and running restaurants, which eventually boosted the economy and perked up the village.
In 2010, the ancient village was renovated and took on a brightly new look; old Ming- and Qing-style buildings are well preserved.
At the entrance to the main road into the village, Zhu Lang (Catching the Sea Waves) Pavilion, was restored for musical performances.
Shanyang Town is well-known for Chinese folk music and the pavilion is place where farmers and fishermen get together to play traditional instruments and put on small performances. They also compose new works.
The village offers various seafood restaurants and seafood lovers can eat their full on freshly caught crabs, clams, shrimp, yellow croakers and all kinds of fish, squid, seaweed and other animals.
After a hearty meal, tourists can visit the house of a local fisherman-farmer, which is restored to look like a local house around 100 years ago. The owner was Zhang Minghui, a village teacher in the 1920s who opened his house to give free lessons to children, women and fishermen.