Ancient Land Sees Future in Tradition
China Daily, October 9, 2012 Adjust font size:
Civic affairs
Tajiks also place a high priority on civic affairs. Every village has a committee, consisting of respected elders, which decides the gifts payable for brides and takes the financial situation of the groom's family into account in each case. In this way, young couples can have an affordable wedding, rather than competing with each other and spending all their savings on the big day.
"I will provide five sheep - two large and three small - plus 12 items of clothing worth 6,000 yuan as betrothal gifts," said Jarwali Sahna at the engagement ceremony, held in front of relatives and the committee of five elders, at his fiancee's home in Tashi Kuergan village.
As the 24-year-old walked into the house, he kissed the back of the hand of every committee member, while holding hands with them as a gesture of respect.
Bardarli Ballen, 70, was one of the committee members: "We don't want the rich to show off and the poor to feel that they are looked down upon. That's why we established the council, to set the standards openly," he said, sipping hot milk tea as sunlight streamed through the window set high in the roof, a distinctive feature of Tajik houses.
Currently, prospective grooms are advised to give their fiancee six sheep and 12 items of clothing as wedding gifts. "The rich can give six large sheep, while others can choose to donate one large sheep and five smaller ones," he said. "Grand wedding ceremonies can't guarantee a successful marriage, but understanding and compromise can."
Border patrol
Tajiks also have a tradition of maintaining border watches as they graze their flocks, said Bardarli. "We just want to do our part in protecting our homeland, so we can have a good, safe life. It's nothing political, it's just in the Tajik blood, it doesn't matter how young or old you are."
Having grazed his sheep along the border since the age of 14, the 61-year-old Bayika Kelidibek from Tiznap village knows every boundary marker between China and Pakistan. "Sometimes my sheep run to the other side, so all I can do is to wait for them to come back," he said.
"If I saw people trying to come across the border illegally, I would inform the police just like any other Tajik would. It's every citizen's responsibility," he said.
On the main crossroads of the county seat, a billboard reads: "We can only expect change if we make the effort. We will experience change if we make the effort".
"While embracing change, we Tajiks will continue to honor our tradition," said Bardarli.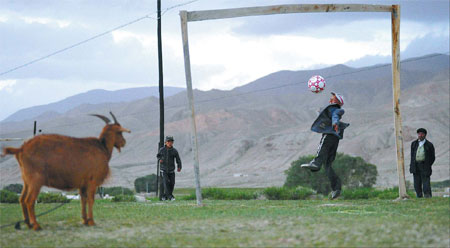 Mahzarhan Azzhan (right), 12, plays soccer with his brother Ahzarahan at the foot of the mountains in Tashi Kuergan in the Xinjiang Uygur Autonomous Region, the home of the Tajik ethnic group. The family goat, designated by the boys as referee, looks on. [China Daily]