Ancient Land Sees Future in Tradition
China Daily, October 9, 2012 Adjust font size: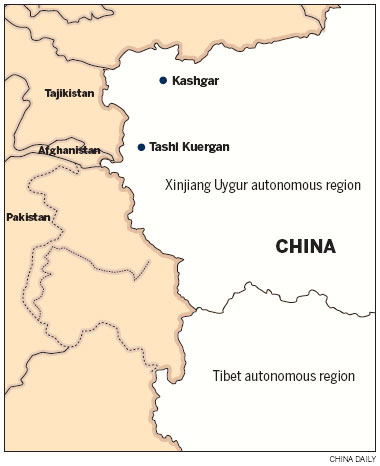 Drawing on the past helps people in the Tashi Kuergan Tajik Autonomous County forge a way forward, Cui Jia reports from the Xinjiang Uygur Autonomous Region.
Tashi Kuergan, the most westerly county in China, was still bathed in golden sunlight at 10:00 PM on a late August evening, although the distance involved meant that over the border in Pakistan it was just 7 pm.
In the distance, dark clouds began to gather above the mountains that separate China from its neighbors. Within minutes, rain cascaded from the clouds, like water being squeezed from a soaked sponge, emphasizing the changeable weather patterns prevalent on the Pamir Plateau.
"We can still play for another half an hour before it (the rain) gets here," said 12-year-old Mahzarhan Azzhan, kicking a soccer ball around with his brother in the foothills of the mountains. On one side of the valley, Afghanistan is clearly visible.
The Tashi Kuergan Tajik autonomous county in the Xinjiang Uygur Autonomous Region shares a border with Pakistan, Afghanistan and Tajikistan. It runs for more than 880 km and is the longest border of all the counties in China. Because of the sensitive location, permits must be obtained at the border control point at Kashgar before visitors can head into the county, which has a population of roughly 33,000. Vehicles are required to stop at several checkpoints.
Eagle spirits
In common with 80 percent of the county's residents, green-eyed Mahzarhan is a member of the Tajik ethnic group. Although they are Muslim, the people also revere eagles for their free spirit. Tajiks are Caucasian, but frequent exposure to the strong sunlight has tanned their skins to a deep bronze.
"Goal!" shouted Ahzarhan, Mahzarhan's brother, jumping for joy. The brothers have turned the grassland next to their home into a soccer field by erecting wooden goalposts. With childish glee, the boys nominated the family's mountain goat, that was on a long tether as the brothers played, as referee.
In addition to the backyard soccer field, the brothers also built a basketball court during this year's winter vacation, using an old motorcycle inner tube as the hoop. "That was my idea," said Mahzarhan, proudly. The fifth-grader enjoys sports at his primary school and loves to play them when he's back at home in Dabuldar village during the holidays.
"I bought them a new soccer ball as a reward for their good performances in the end of year exams. I want my children to be educated, not like me," said the boys' father, Azzhan Roztam, who dropped out of school at an early age and has been a herder and farmer ever since.
"If I'm careless with my crops, the worst that can happen is that I won't get anything for that year's work. But if my children miss school, they might feel they're falling behind and may not want to go back. That's irreversible."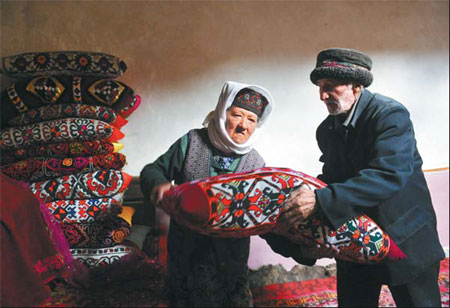 Nazarmemet Mirken, 79, and his wife organize ornately embroidered cushions and rugs at their home in the Tashi Kuergan Tajik Autonomous County in Xinjiang. [China Daily]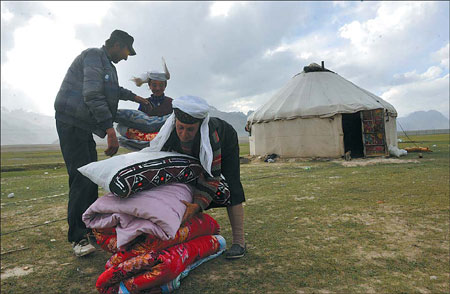 Atokeli Gulinurto (front), 55, and her son remove cushions from a tent for cleaning. The tent functions as a restaurant during the tourist season.