Premier Wen Stresses Poverty Alleviation in SW China
Xinhua News Agency, October 9, 2012

Adjust font size:

Premier Wen Jiabao has urged greater efforts to alleviate poverty, preserve the environment and adjust the economic structure in southwest China's Guizhou Province.

Wen made the remarks during a two-day inspection tour to the province that ended on Sunday. The tour followed a previous visit to Yiliang, a county in Yunnan Province that was recently hit by earthquakes and a landslide.

Improving livelihoods in Guizhou will be symbolic of China's efforts to close the gap between the underdeveloped west and other regions in the country, Wen said.

He called on the local government and residents of Guizhou to make arduous efforts for the province's future.

Wen visited the city of Bijie, which was approved by the State Council, or China's cabinet, in 1988 as a "trial zone" for environmental protection, economic development and poverty alleviation, and expressed appreciation for the achievements the city has made over the past two decades.

Wen also visited Weining, a county located in a remote mountainous area in the province and inhabited by people from various ethnic groups.

He visited an adobe house in the village of Dalu and talked with local residents about an ongoing government-subsidized housing renovation program in the village.

According to the villagers, the government's support has helped 53 of the village's 262 families to renovate their houses.

Wen called for further implementation of the government's poverty alleviation policies, as well as more efforts to promote agricultural industries with local characteristics, increase farmers' incomes and improve living standards for local residents.

Wen urged continuous efforts in environmental protection and ecological preservation in order to secure sustainable development in the region. Efforts to convert pastures into forests will help to conserve water resources, curb the spread of desertification, improve the ecological environment and increase farmers' incomes, Wen said.

He also inspected a hydrological project and urged scientific planning for the project in order to combine water conservancy, ecological protection and desertification prevention efforts.

Wen visited an automobile manufacturing plant in Bijie and encouraged the enterprise to work hard and maintain its standing in the market.

He told the province to adhere to a new road of industrialization and actively participate in regional cooperation with southeast Asian countries and regions.

During his inspection, Wen heard a work report from the provincial government of Guizhou and told the government to focus on poverty reduction efforts and work to secure leapfrog economic and social development.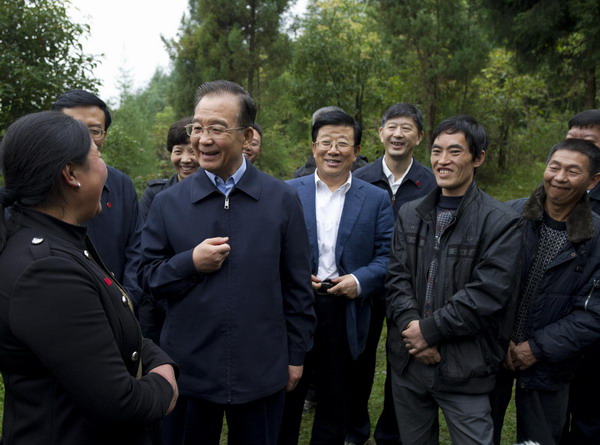 Chinese Premier Wen Jiabao (2nd L) talks with a villager at Yangquegou Village in Bijie City, southwest China's Guizhou Province, Oct. 6, 2012. Wen paid an inspection tour to Bijie City from Oct. 6 to 7. [Xinhua]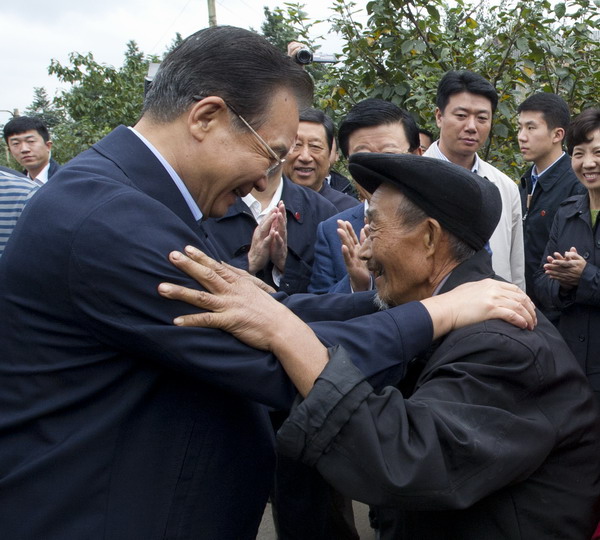 Chinese Premier Wen Jiabao (L) talks with Gu Qingyou, a villager who was visited by Wen during an inspection tour 16 years ago, at Duijiang Village of Hezhang County in Bijie City, southwest China's Guizhou Province, Oct. 6, 2012. Wen paid an inspection tour to Bijie City from Oct. 6 to 7. [Xinhua]