Flower Festival Highlights Plateau Charms
china.org.cn / chinagate.cn by Jiao Meng, July 25, 2012

Adjust font size:

The 3rd annual Flower Festival in Laoye Mountain was held in Datong County, China's northwestern Qinghai Province last week, attracting locals and tourists fora flower song gala, shadow puppet performance, a handicraft expo and local cuisine.

Organized by the Ministry of Agriculture and Datong Hui and Tu Autonomous County, this festival also included a panel consisting of top officials and industry leaders to discuss ways to develop modern agriculture and improve farmers' livelihoods in regions inhabited by ethnic minorities.

Datong County Party Chief Yan Shujiang believed it's a good chance to promote local scenic sites and culture to the world. "Flower songs are unique cultural heritages; Laoye Mountain flower festival is a magnificent gathering of flower song lovers. We hope to let more people know and enjoy this plateau cultural essence."

The flower songs are a kind of folk song popular in northwestern China. These are usually love songs young lovers sing to each other to express their affections. Its history can be traced to as early as the Ming Dynasty (1368 - 1644). Every spring and summer, people from every ethnic minority gather in the mountains to sing the flower songs together.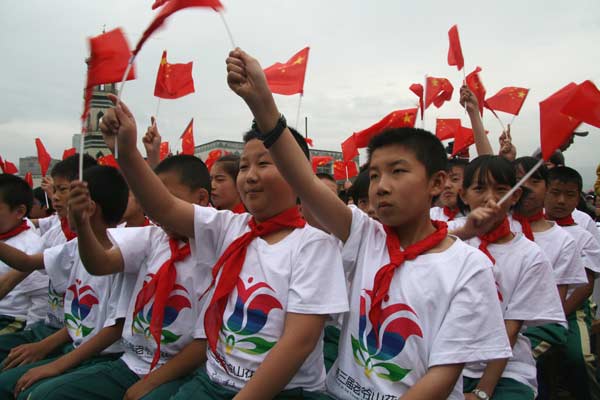 Pupils wave national flags at the opening gala of 3rd annual Flower Festival in Laoye Mountain, in Datong County, China's northwestern Qinghai Province on July 21. [CnDG by Jiao Meng]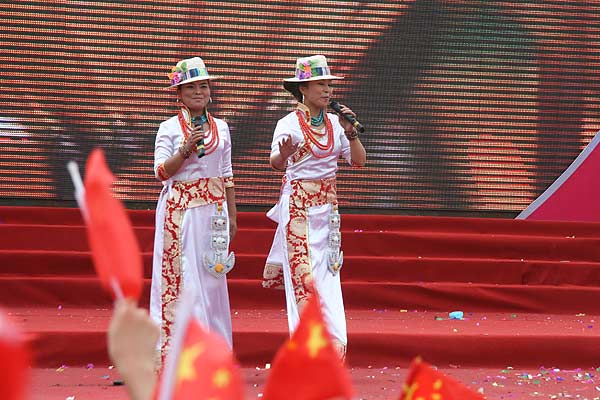 Local singers sing a flower song to the audience at the opening gala of 3rd annual Flower Festival in Laoye Mountain, in Datong County, China's northwestern Qinghai Province on July 21. [CnDG by Jiao Meng]