Fighting Poverty in China's Arid West
Xinhua News Agency, June 21, 2012

Adjust font size:

At 71, Wang Yongrui has been planting trees for three decades in his home village on the Loess Plateau of northwest China's Gansu Province.

Only 10 percent of his trees have survived in the perennially water-hungry Bailu village of Dingxi. His pears are about the size of walnuts, and his apricot trees never bear fruit.

But he has refused to give up this one-man campaign.

In his younger days, Wang carried buckets of water up the zigzagging mountain roads, but now he can only carry two small jars.

One after another, the dogs that kept him company during the day and kept him warm at night have died.

When asked why he has persevered over the years, Wang could not choke back his tears. "I wouldn't rest in peace if the trees all die," he told Xinhua in an interview.

"I heard water will be diverted here from the Taohe River this year," he said, his eyes flickering with hope, if only briefly.

The water diversion project, which was deemed "mission impossible" and abandoned 50 years ago, started up again in the recent decade, aiming to ease water shortages for at least 1 million people on the Loess Plateau.

Wang's out-of-the-way village, however, is too far from the river and no one knows when its water could eventually reach here.

"We still have rainwater," he said.

The region receives 200 to 300 mm of rainfall every year, but transpiration is at least 10 times as much.

Dingxi, alongside Gansu's Hexi and Xihaigu in the neighboring Ningxia Hui autonomous region, is among China's driest -- and least developed -- regions.

The three places are known together in Chinese as Sanxi -- "san" meaning "three" and "xi" for "west," the only character their names share.

"Crack open a grain of dust, you'll find half of it crying with thirst and the other weeping with hunger," Sanxi's drought was thus described in modern Chinese poetry.

In the driest years, the crops grow no more than 5 cm tall. Donkeys' mouths become swollen as they desperately try to lick the teeny weeds on the ground.

The Sanxi region was declared uninhabitable for humans by visiting experts from the United Nations in 1982.

The conclusion was justified by that year's severe drought, which forced several hundred thousand people to flee their homes.

Those who stayed were miserable: few children could afford shoes even in the coldest winter days -- they could only keep their frostbitten feet warm in piles of fresh cattle dung. An average family of seven had to fan out on their "kang" -- the makeshift bed made of bricks and heated underneath by fire -- so everyone could have a corner of the family's only quilt.

That same year, drought and famine prompted the Chinese government to launch a poverty relief program in Sanxi, marking the country's first massive and systematically organized relief program that has lasted into the present.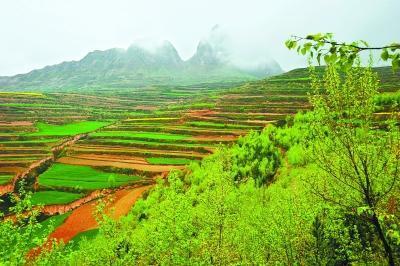 Trees planting in China's Gansu Province. [File photo]