Sichuan Plans More Hydro Projects
China Daily, May 2, 2012 Adjust font size:
When it is finished in 2015, the Xiangjiaba hydropower plant will be the third-largest in China, next only to the Three Gorges plant in Chongqing and Xiluodu in Sichuan, which is also under construction.
By the end of 2011, Sichuan had completed roughly 640,000 hydro projects. At least one large or medium-sized project has started every month since the beginning of 2010.
In the next five years, 13 large and around 60 medium-sized projects will begin, with the aim of supplying all the water-deficient areas in the province.
Wen Ting, deputy head of the education center of the Sichuan Provincial Bureau of Environmental Protection, said many people believe that the province has an abundance of water resources, but many cities and counties suffer from seasonal shortages and pollution.
Take Neijiang as an example. Situated in the middle of the province, this large city gets its water from the Tuojiang River, which runs through it. "In the dry season, cities on the upper reaches of the river often store water in reservoirs, so the amount left for Neijiang is negligible," said Wen.
In March 2004, the Tuojiang River was severely contaminated after an accident at a chemical factory in Chengdu, the capital of Sichuan. The contamination left millions of residents in cities downstream of Chengdu, Neijiang among them, without safe tap water for almost three weeks.
"There are so many cities and chemical plants along the river. That poses a potential safety hazard to the people of Neijiang," said Zeng Wanming, secretary of the Neijiang municipal Party committee. "The only solution to this problem is the irrigation project at Xiangjiaba, which will transfer water from the Jinsha River to Neijiang."
"The urbanization and industrialization of cities is not preventable," said Wen from the provincial environmental protection bureau. Many major cities in the province are planning to expand their populations by least 1 million, but those plans have been severely hampered by a lack of drinking water.
A planned irrigation project involving the Xiangjiaba plant is currently awaiting approval from the central government, and it's estimated that at least 5 million people in the provinces of Sichuan and Yunnan will benefit if it gets the green light.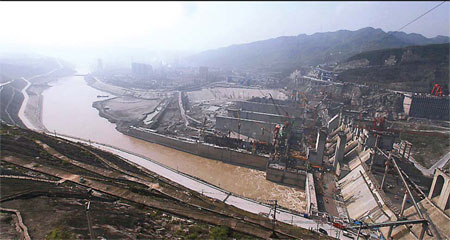 The Xiangjiaba hydropower plant, currently under construction. When completed in 2015, the facility will be the third-largest in China. [China Daily]