New Name, Home for Village
China Daily, April 16, 2012 Adjust font size:
Residents of quake-hit areas prepare to move into new houses in June
Geleg Dargye still remembers the moment of utter desperation when staring at his ruined village after a devastating earthquake two years ago.
But the painful memories are now fading away as he and the other 825 residents of his village in the Yushu Tibetan autonomous prefecture, in Qinghai Province, prepare to move into new homes in June.
Before the quake, the village was called Dongfeng, but its people agreed to change the name to Dage, which means "warrior" in the Tibetan language.
"People in the village are nothing short of warriors," Geleg Dargye said. "We were undaunted in the face of calamities. We survived and are moving toward a better life."
The new Dage is just part of the massive reconstruction project following the 7.1M quake that rocked Yushu on April 14, 2010, taking 2,698 lives and injuring over 12,000 people.
There will be showers and bathrooms in the new dwellings, which will be powered by solar energy and bio-gas, said Geleg Dargye, who is also Party chief of the village.
"We will be able to enjoy modern conveniences and live as urbanites do," he said.
Dage is the only village to be rebuilt using energy-saving technology in Gyegu District, which was hit worst by the quake.
Out of respect for Tibetans' religion, every house will have a Buddhist prayer room, according to Li Bo, a senior engineer with China Railway Construction Corp and head of the project.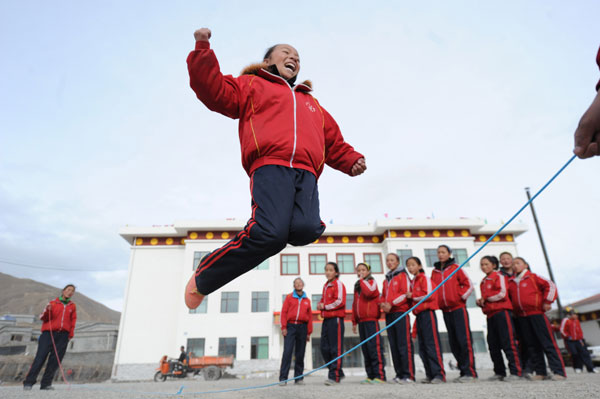 Children play on the grounds of a new orphanage school in Yushu, Qinghai Province, on Thursday. The Lanzhou Military Area Command of the People's Liberation Army aided the construction of the school. [China News Service]