Kiva-style Lending a New Platform for Micro Loans
china.org.cn / chinagate.cn by Jiao Meng, February 8, 2012

Adjust font size:

Chances offered by P2P lending platform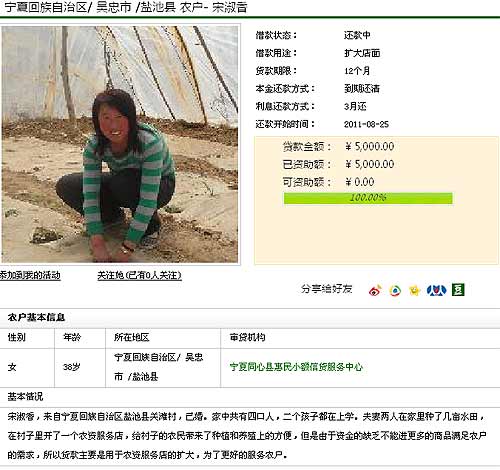 Song Shuxiang's basic information and loan situation is listed on Yinongdai's P2P lending website. [CnDG by Jiao Meng]

Yinongdai, a Kiva-style P2P (peer to peer) lending website, offered a helping hand to raise a loan of 5,000 yuan (US$793.5) for her.
The sum was collected from 21 online lenders with 100 yuan (US$15.8) interest for a year.
"You cannot imagine how excited I was," Song said. "I could increase my stocks and prepare for next year's spring farming."
Song was not the only beneficiary.
The lending platform was launched by CreditEase in 2009 to serve China's farmers, especially women. It worked closely with local micro loan institutions such as Huimin, sharing borrowers' information. This information was displayed on the Yinongdai website to attract lenders to provide funds from 100 yuan (US$15.8) and up.
Started from July 2011, the Yinongdai platform has helped Huimin generate 2.99 million yuan (US$473,919) in loans to 644 rural clients, according to data provided by Huimin's client manager Fan Wencheng.
"Money collected from the P2P website will be distributed to our clients," Fan said. "It could help solve financing problem, which is a common trouble to China's poverty-relief micro loan institutions like us, since we are not allowed to take deposits directly."
Bai Chengyu, sectary general of the China Association of Micro-finance, said he believed this was an effective tool to develop micro-financing in China.
That is, local micro loan institutions provide creditable clients to P2P platforms, which guarantee authenticity of their information and help online lenders to distinguish and choose borrowers. The platforms are responsible for attracting online lenders with updated borrowers' repayment status. What's more, lenders could get a sense of satisfaction through helping specific client with detailed information and tracking his or her efforts to shake off poverty.
"However, this kind of social investment still has its shortcomings," Bai said. "How to solve Information asymmetry problem and get the full trust from lenders and how to control financial risks – especially bad loans – are tough questions we should conquer."