Kiva-style Lending a New Platform for Micro Loans
china.org.cn / chinagate.cn by Jiao Meng, February 8, 2012

Adjust font size:

Song Shuxiang, 39, is a farmer in Yanchi County, Northwest China's Ningxia Hui Autonomous Region. She took care of all the housework and also worked the fields, planting potatoes, corn and other crops.

However, in the area where total annual rainfall was about 200 mm and evaporation was as high as 2,700 mm, her efforts to feed her family were destined to fall short.

In 2003, she planned to purchase several Tan lambs and sell them as sheep. But her family already owed about 30,000 yuan (US$4,764) to relatives, and no one wanted to lend her more.

Fortunately, she was able to qualify for her first branch of micro loan of 1,000 yuan (US$158.2) from Huimin Micro-loan Co, a newly-established micro loan institution.

"Together with my 1,000 yuan deposit, I bought eight sheep and sold 15 of their lambs for 3,000 yuan (US$476.4) on year's end," Song said. She was able to pay back the loan and borrow more to expand on her business.

Her flock grew year after year. Now, she has paid off her debts and she could provide for four family members' daily spending needs.

In 2010, she opened an agricultural products shop to sell seeds, fertilizer and farming tools with all of her savings of 40,000 yuan (US$6348).

It was the first shop of this kind in Guantan village, which brought great convenience to nearby farmers.

She was eager to introduce more products, but she had reached her borrowing limit at the Huimin Micro-loan Co.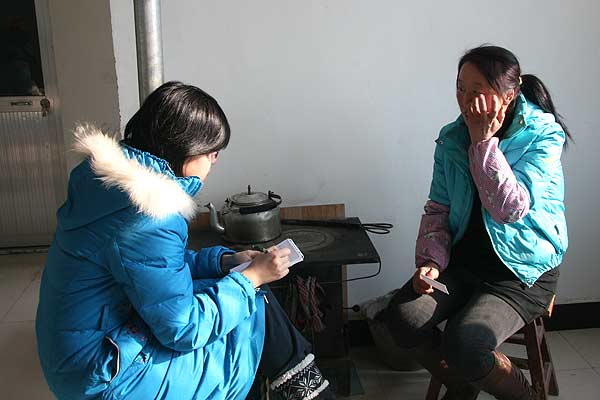 Song Shuxiang (R) discusses her growing business thanks to P2P micro loans in her home in Guantan Village of Yanchi County, Ningxia Hui Autonomous Region.