Rural Banks Lend Hand to Farmers
China Daily, December 7, 2011 Adjust font size:
Less-developed areas offer huge opportunities for small lenders, Wang Xiaotian reports from Hubei, Chongqing and Shandong.
When Hu Jizheng wanted to upgrade the facilities on his pig farm, he decided to do something unique.
Get a loan from a bank.
"In the past we used to borrow from relatives and friends," said the 48-year-old, who is raising more than 4,000 pigs on his farm in Hubei Province.
A rural bank nearby, however, was offering money at an interest rate of 8.6 percent - less than he would pay elsewhere. So in April he borrowed 2 million yuan (US$314,000) and expects the revamping of his equipment and purchase of a methane tank will bring his annual revenue to more than 15 million yuan.
"I never imagined a bank could lend me so much money at such a cheap rate."
He had earlier visited all traditional major lenders in the area. They all rejected him.
"To my surprise, unlike common banks, the working style of this rural bank is surprisingly good," Hu said. "Surely it's time for me to change my outlook and turn to rural banks for capital instead of private lenders."
In underdeveloped areas of China, rural banks are gaining momentum as a supplement to major lenders and a lifesaver to small-business owners, farmers and other individuals. This has proved especially useful since the central government started tightening its monetary stance and credit control at the end of last year.
"The biggest advantage of rural banks is that they are fully independent, which means high efficiency in decision-making and more flexibility in product development," said Bai Shan, head of banking for the Shandong provincial government. Some rural banks can lend out money in three working days, Bai said.
Pushing things along
The China Banking Regulatory Commission set out two years ago to improve financial services in rural areas. It's goal: to establish 1,294 rural financial institutions across the country by the end of this year - 1,027 rural banks, 106 lending companies and 161 rural mutual cooperatives. So far, 643 rural banks have been set up, 10 lending companies and 50 co-ops.
Rural banks are fully independent banks but usually operate under a lender's name.
While the commission encouraged banks' quick expansion in rural areas, the regulatory bureaus at provincial level were more cautious when approving local banks. Most of the bureaus required the initiating lender to hold more than 51 percent of the shares in the new rural banks, and some set higher criteria on the banks' locations.
In addition, requirements and approval standards set by local governments varied widely, said Xu Jipian, chief finance officer for Bank of China's Fullerton Community Bank (BFCB). That disparity complicated rapid development.
To remove barriers from provincial governments, the commission issued an update on July 25. It reclaimed the approval authority from local banking regulatory bureaus and indicated it would encourage lenders, especially big commercial banks, to set up rural banks on a large scale.
"The measure will accelerate the expansion pace of rural banks, especially those backed by major State-owned lenders, by reducing operation and management costs," said Chelang Shu, who directs business development for BFCB. That bank is a joint venture set up by Bank of China and Fullerton Financial Holdings, a subsidiary of Singapore's sovereign wealth fund Temasek Holding.
Shu said local governments are not completely confident in the rural banks because they cannot receive direct capital injection from big lenders, and if they go bankrupt, the burden will fall on the local government.
However, better-than-expected performance by rural banks consolidated the resolve of the central regulator and major lenders to develop their network in rural areas.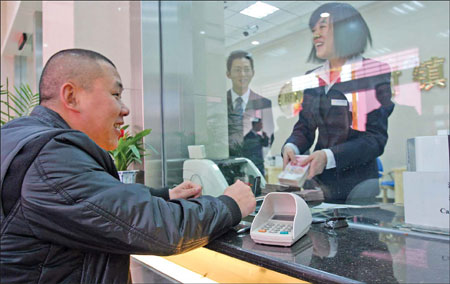 Here comes the money: This farmer got the first loan from a village bank in Guangan, Sichuan province, after it opened last Dec 18. Rural banks have helped support small-business owners and farmers in underserved areas. [China Daily]