Helping Those Most in Need
China Daily, December 5, 2011 Adjust font size:
It was Sun Mingnan's 27th birthday on Nov 16. The young entrepreneur in Dalian decided to do something special to celebrate that day.
Early that morning, Sun, chairman of the board of directors of Dalian's Pengsheng Group, visited Zhoushan, one of the poorest villages in Wafangdian, about 140 kilometers away from downtown Dalian.
Sun set up a charity fund with 20 million yuan (US$3.13 million) to help low-income farmers with interest-free loans and guide them in starting their own projects in Wafangdian, making it the biggest individual donation in northeast China's Liaoning Province.
"I want to build a greenhouse in which to grow peaches," Zhu Hengzhi, 43, told Sun.
"Peaches grown in greenhouses sell much better," Zhu, a farmer in Zhoushan, explained. "But a greenhouse costs more than 100,000 yuan and I cannot afford it."
Zhu supports the family with a small annual income by planting corn, sweet potatoes, and peaches. He cannot even afford to repair the leaking roof of his house.
To thank the young man who brought them hope, Zhu's mother gave him an apple as a birthday gift and wished him to be "safe and healthy" - what apples symbolize in China.
"We used to give money to those in need but the money soon ran out. Sun's fund explores a new way. It encourages the villagers to shake off poverty through their own efforts," said Yan Shizhong, chairman of the Wafangdian Charity Federation.
"What's more, the loan can be taken back and used to help others," said Yan.
Born with a silver spoon in his mouth, Sun has no experience of living in underdeveloped rural areas.
"I knew they needed help, but the real situation is even worse than I expected," Sun said while walking against a strong wind on the soft sand road in Zhoushan village.
Sun received a large fortune (about 3 billion yuan) from his father and his grandfather, as well their philosophy to give back and share continuously with people who are less fortunate.
Pengsheng Group was established in 1993 and first hit gold in the real estate boom. Its business now also involves finance, commerce and new agriculture. For years, Pengsheng has donated hundreds of millions of yuan to education, poverty alleviation, disaster relief and other charitable causes.
"Charity reflects the social responsibility of an enterprise. But we must donate according to our capability. Only in that way can charity be sustainable," said Sun.
According to Sun, this year, the real estate sector hit on hard times as China adjusted policies to avoid a bubble. As a result, the latest charity fund is smaller than last year's, which was 50 million yuan.
Both of the funds, respectively in the name of Sun Mingnan and Pengsheng Group, will be completed within 10 years.
In 2010, the company provided its initial 3.5 million yuan to the Pengsheng Charity Fund. More than 30 children with congenital heart disease and nearly 30 adults suffering from avascular necrosis of the femoral head - a musculoskeletal disability that can necessitate hip replacement - have benefited from the fund.
In addition to Pengsheng, many other local companies, including Wanda, Yida, Dashang, and Bank of Dalian, have set up separate charity funds in Dalian.
"Dalian has a positive atmosphere for doing charity work," said Yang Aimin, director general of Dalian Civil Affairs Bureau.
According to Yang, by the end of 2010, there were 121 charity funds in Dalian, with a combined value of 731.1 million yuan. This year, 27 funds were set up with a total sum of 202.6 million yuan. Generally, the funds will be completed within five or 10 years.
November is the annual Charity Month in Dalian. At the launch ceremony of this year's activities on November 21, Dalian Charity Federation received 252 million yuan in donations from the public, including goods converted into money.
Dalian will improve the working mechanism of charity organizations and continually encourage more citizens and enterprises to help those who need help most, said Tang Jun, Party chief of Dalian, at the launch ceremony.
"If everyone shows their love, this city will become more beautiful and harmonious," said Tang.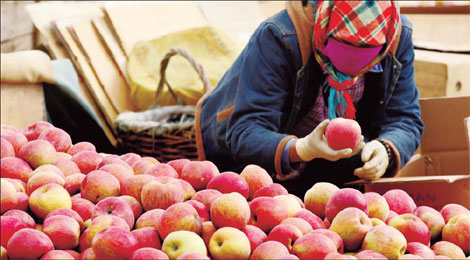 A farmer examining her apple harvest at a farm in Dalian of northeast China's Liaoning Province. Because of a decrease in apple production this year, local farmers have to increase the wholesale prices of the fruit by 2 yuan (31 cents). [China Daily]