Micro-loan Entrepreneurs Honored
China Development Gateway by Jiao Meng, October 20, 2011

Adjust font size: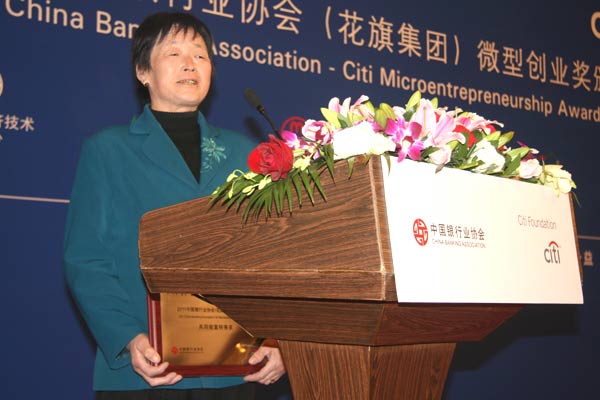 Common prosperity special award winner Wang Fengxiang, a farmer from Changcheng Village of Yanchi County in West China's Ningxia Hui Autonomous Region, tells her story of helping villagers to shake off poverty. Selected entrepreneurs who started their own businesses with microloans received the 7th Citi Micro-entrepreneurship award (CMA) on Oct.18 in Beijing. [CnDG by Jiao Meng] 

62-year-old farmer Wang Fengxiang received her first micro-loan in 2006 from Huimin Micro-loan Co, a micro loan institution in Yanchi County. She began to plant fruit trees such as peaches, apples, Chinese dates and pears in a 2 mu (0.13 hectare) space in front of her home.
Wang extensively studied agricultural practices so her trees could produce a greater yield, and used grafting to produce healthier crops.
Now she earns over 100,000 yuan (US$15,680) selling fruit, and has contracted tree-planting projects with survival rates as high as 90 percent. She also has encouraged and introduced over 50 housewives in her village to apply for micro-loans and plant fruit trees. She has voluntarily taught farming techniques and offered the women jobs in her projects.
"Once I was a housewife and did some odd jobs for extra income. Now I feel grateful to society and I want to do more to help those in need," she said.
She is one of 27 entrepreneurs who received the 7th Citi Micro-entrepreneurship award (CMA) on Oct.18 in Beijing.
Since 2005, this annual award has been co-organized by China Banking Association (CBA) and Citi Bank.
"Micro-loans are a new financial tool for developing countries to improve employment and reduce poverty," said Zhang Fang, vice secretary-general of CBA, at the ceremony. "In recent years, banks and other financial institutions in China have carried out different types of microloans, such as educational loans, agricultural loans and micro enterprise loans."
Zhang said that by June 2011, total outstanding small enterprise loans in China amounted to 9.7 trillion yuan (US$1.52 trillion), up 25.9 percent year on year.
Duan Yingbi, head of the China Foundation for Poverty Alleviation, believed farmers in poverty could change their destiny through micro-loans.
"We have provided over 2 billion yuan (about US$3.14 billion) for more than 300,000 loans in total," he said. "Of these, the bad loans only account for about 1.3 million yuan (about US$0.2 million)."
"Poor farmers have the credibility to pay back their loans," Duan said. "We need to provide right methods and better services to help them."