Salon Explores Micro-credit Operation Model
China Development Gateway by Jiao Meng, September 30, 2011

Adjust font size: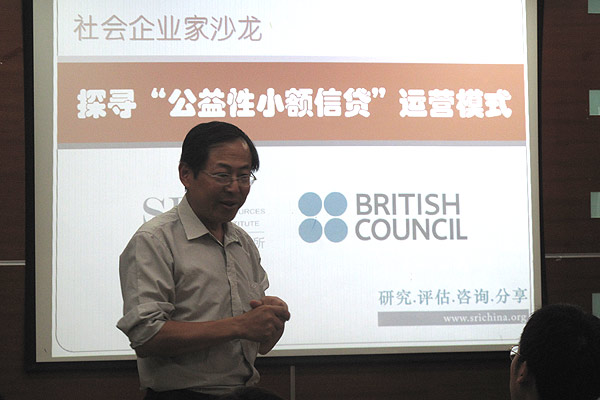 Bai Chengyu, sectary general of the China Association of Micro-finance, answers a question from audience at a micro-loan salon held in Beijing on Wednesday, September 27, 2011. [CnDG by Jiao Meng] 
Micro-loan experts and operators participated in a salon to share their latest findings and discuss the micro-loan operation model on Wednesday afternoon in Beijing.
Co-organized by the Social Resources Institute (SRI) and the British Council, the event was well attended by participants who came to discuss and further explore the development of the micro- loan model in China.
"By its very nature, Micro-credit provides public benefits; however, not all micro-credit institutions are nonprofit ones," said Bai Chengyu, sectary general of the China Association of Micro-finance.
"This small amount money could help those on low incomes who do not qualify for commercial bank loans to start their own businesses and try to get out of poverty."
Peer to Peer (P2P) lending is a certain breed of financial transaction which occurs directly between individuals or "peers" without the intermediation of a traditional financial institution, according to Wikipedia.
Introduced from the UK, P2P lending has become increasingly popular in China in recent years.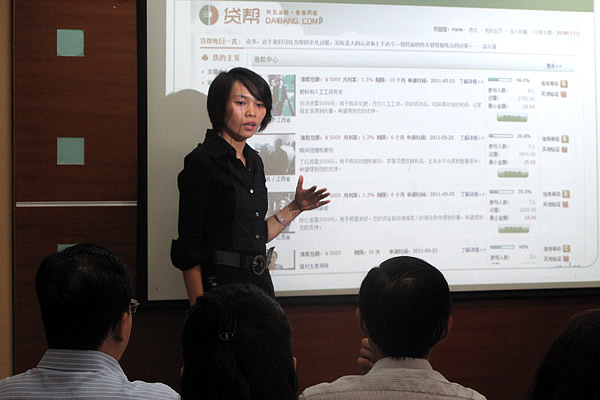 Li Qiujia from a P2P platform daibang.com, explains the company's operation model at Wednesday's salon. She also gives examples of how this financial method helps the poor to start their own business. [CnDG by Jiao Meng]

Li Qiujia from P2P platform daibang.com introduced the company's operation model at the salon. In Daibang's model, borrowers are rated on one of three credit levels, based primarily on their financial situation, purpose, and ability to pay. The maximum loan limit is 30,000 yuan (US$4689).
"The costs for micro-loans are higher than usual bank loans," said Li. "To be honest, our company is still struggling to make ends meet."