Scientists Counting on Panda Census
China Daily, August 26, 2011 Adjust font size: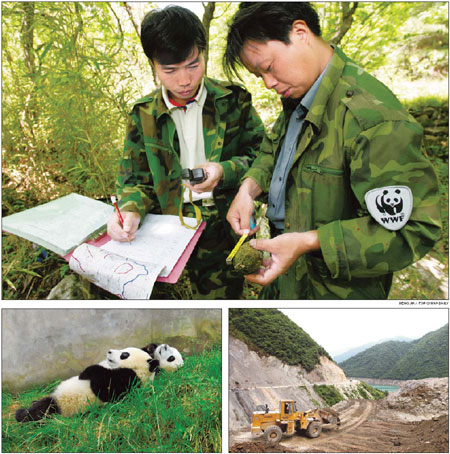 Clockwise from top: Two researchers measure dung of a giant panda in a nature reserve. Similar work will be done when China's fourth panda census begins, within two months. Scientists say that construction of roads and railways through panda habitat sets up barriers to the animals. It isolates family groups and provokes inbreeding, which threatens the entire species. Giant pandas enjoy themselves at a research center in Ya'an, Sichuan Province.  [China Daily]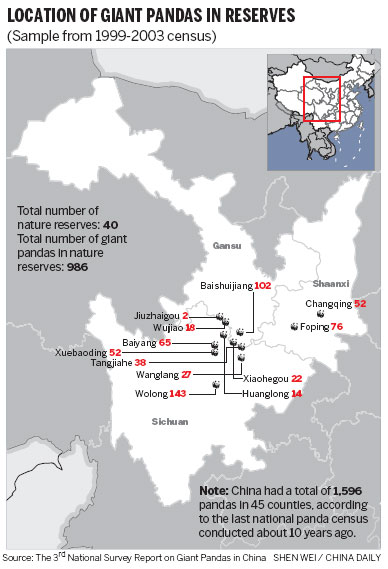 Project will help protect bears in their habitat, Jiang Xueqing reports in Mianyang, Sichuan.
Before venturing into the forest, Yuan Zhiwei clicked on his GPS device. He, and two team members, recorded the surrounding habitat and marked out three 1-square-meter quadrants at random, then measured the diameter and height of the bamboo branches.
The team were looking for any traces of giant pandas, such as footprints or teeth marks. They collected fresh dung for DNA tests.
Over 10 days in late June and early July, 70 forestry professionals like Yuan - a nature protection specialist - worked in 22 teams, studying the behavior of giant pandas at Wanglang Nature Reserve in Mianyang, Sichuan Province. Researchers at the Chinese Academy of Sciences are currently analyzing the collected data.
The project is a trial run for a national census, due to start in September or October, on giant pandas.
"Actually, this kind of census won't be very accurate," said Chen Youping, director of the administration bureau of Wanglang National Nature Reserve in southwest China. "People can only cover a small area on foot, after all. In the end, we'll only get a rough figure."
Still, the methods are the best available.
Bamboo as a measure
The previous census, conducted 1999-2003, found that China had 1,596 wild giant pandas - 1,206 in Sichuan Province, 273 in Shaanxi and 117 in Gansu. Pandas under 18 months old were not counted.
Like the previous one, the new census will calculate pandas by measuring the length of undigested bamboo pieces left in the dung. The formula is based on the assumption that each panda has a different size bite.
Scientists will also take a supplementary measure to try to identify individuals. They will test DNA extracted from cells in mucous membranes that surround undigested bamboo fragments, protecting the panda's intestinal canal from the sharp bamboo.
That test is not reliable, however, because the DNA fragments extracted from dead cells could be too short to provide distinctive information, said Fan Zhiyong, a leading conservationist and director of the species program for the World Wildlife Fund in China.
According to a paper published in the journal Current Biology in 2006, DNA tests had found 66 pandas in Wanglang, while the national census conducted five years earlier found only 27.
"We feel that the actual number of pandas in Wanglang should be around 40," Chen said. Staff members at the reserve have found three baby pandas every year since the previous census.
"I hope to preserve a nice habitat where pandas feel comfortable and become highly active during the mating season," he said. "They might go to other nature reserves by climbing over the mountain. In this way, Wanglang is contributing to the stability of the entire species."