China Mourns Quake Victims
China Daily, April 15, 2011 Adjust font size: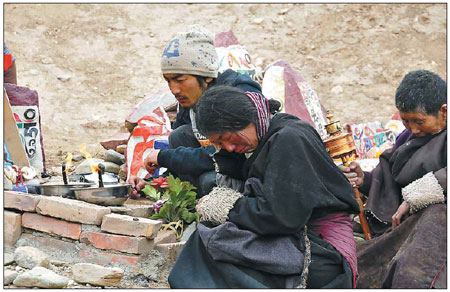 Relatives of victims of the Yushu earthquake remember their loved ones on Thursday while kneeling in front of ghee lamps, which are believed by Tibetan Buddhists to have the power to enlighten the world and relieve sufferings. [Xinhua] 
Large crowds stood in silence on early Thursday to mourn the deaths of the nearly 2,700 victims of a quake that razed the plateau township of Gyegu, in Northwest China's Qinghai province, exactly a year ago.
The mourning began at 7:49 AM, the time the 7.1-magnitude quake shook Gyegu township in the Yushu Tibetan autonomous prefecture on April 14, 2010.
From the epicenter in Gyegu to the provincial capital of Xining, people stood in silent tribute while the sad reverberating sound of vehicle horns filled the air.
A black banner was put up in the compound of the Yushu government. Its white Chinese characters read, "In solemn memory of our compatriots killed in the quake and of the heroes who died saving others."
The most destructive quake in Yushu's history shook 19 villages in six counties, killed 2,698 people and left 270 missing.
More than 300 students tearfully bowed their heads on the temporary campus of Yushu's Red Flag Primary School. The former school building was damaged in the quake, but none of its 1,000 students was harmed.
A makeshift exhibition counter was stacked with various works made by children: paintings and essays composed in memory of the dead and models assembled to give viewers a notion of the best possible new campus they could imagine.
"We've taught the children to have faith," said the school's principal Fu Wencai. "New homes and schools are being built, and we're all confident in our future."
On behalf of 5.6 million Qinghai residents, Vice-Governor Wang Lingjun paid his respects to the family of Wong Fuk-wing, a Hong Kong truck driver who died while saving others after the quake.
Wong, a volunteer at an orphanage in Yushu, was crushed by falling debris after pulling four people, including three orphans, to safety. He was 46.
To commemorate him and others on Thursday, a large number of Tibetan Buddhists walked clockwise around the sacred Mani stone mound in town, holding prayer wheels and muttering a six-syllable prayer used in observance of their daily rituals.
"Our home toppled in the quake, but magically all four of us survived without injuries," said Karma, a 23-year-old who, like many Tibetans, goes by a single name.
"I got up before daybreak this morning to pray for the dead and the living."
About 900 monks from the three best-known monasteries in Yushu - Trangu, Gyegu and Renyak - gathered at a hillside burial site in Gyegu township at 10 am, chanting sutras for about 1,000 quake victims who were cremated there last year.
"This prayer ritual serves the dead souls of the people who perished in the Yushu quake, the Japanese quake and tsunami, and everyone else who suffers from natural disasters or wars around the globe," said Lodroe Nyima Rinpoche, a Living Buddha of the Trangu Monastery.
Sonam Namtso tearfully stood in front of the Mani stone mound, her baby son in her arms. The child was born two weeks after the quake. "I hope my dead parents will be happy to see him."
The prayer ritual made her feel peaceful at heart, said Sonam Namtso. "With so many high monks praying for my parents and guiding their souls, it's relieving to think they are living well now."
In the reconstruction of Yushu, which began in June 2010, an important task will be to make repairs to the 87 local monasteries damaged by the earthquake.
The rebuilding work is now going ahead as fast as possible. Evidence of that can be found in an area in Gyegu that had once been strewn with rubble. It has been turned into a huge construction site.
The Qinghai provincial government said an additional 20 billion yuan (US$3.06 billion) had been poured into rebuilding Yushu this year, following 5 billion yuan in 2010.
About 25,000 new homes are being built in the six quake-ravaged counties of Yushu. Those structures will make up 70 percent of all the new homes that are planned to be built there by 2013, said Vice-Governor Ma Shunqing.
He said the plans also call for the reconstruction of schools, hospitals, gas stations and other public places.