Nation to Hike SEZ Spending in Africa
China Daily, September 15, 2010

Adjust font size:

China is willing to accelerate investment in special economic zones (SEZs) in Africa under a partnership with the World Bank, top officials and analysts said Tuesday.

"SEZs and infrastructure construction are among fields that can best reflect features of Chinese economic development since reform and opening began more than 30 years ago, and have contributed to the country's growth greatly," said Wang Jun, vice-minister of finance, at the opening ceremony of the third China-Africa Experience-Sharing Program held by the Chinese government and the World Bank in Beijing.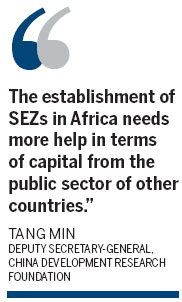 SEZs were set up by the central government in the early 1980s to test the market economy model and promote export oriented and labor intensive industries through special policies and flexible measures. The concept later caught on throughout the country.
Chong Quan, deputy international trade representative of China's Ministry of Commerce, said that the country has invested in some industrial zones and would continue to develop SEZs catering to different development models across the African continent.
The officials didn't disclose data regarding the exact amount of such investment or detailed plans for future financing.
"The Chinese government is supporting the establishment of SEZs in some countries in Africa. It is a very welcome initiative to expand China's investment in Africa beyond the minerals and infrastructure sectors, into activities that are providing greater opportunities to create jobs," said Robert Zoellick, president of the World Bank.
SEZs played a key role as tested areas of reform for attracting foreign investment, technology and forming industrial clusters, crucial to China's economic success as one of the world's largest manufacturing centers, he said.
As of 2007, SEZs accounted for 22 percent of the nation's gross domestic product, Zoellick said.
Tang Min, deputy secretary general of China Development Research Foundation, a think-tank of the State Council, said China has to resolve local infrastructure constraints before making sure that the zones in Africa are capable of attracting foreign investors.
"China had a huge market to attract the private sector in the beginning, but African countries do not have that. Therefore, the establishment of SEZs in Africa needs more help in terms of capital from the public sector of other countries," he said.
The investment would help China not only diversify its US$2.45 trillion in foreign exchange reserves, but also assist domestic enterprises venturing abroad in search of better profits and scale, Tang told China Daily.
Happiness Mgalula, deputy executive secretary of the President's Office Planning Commission of Tanzania, said such investment would have a positive effect on the African economy. But, local governments need to formulate policies to ensure it meets with their own development needs.
"Instead of just mining and bringing its domestic laborers, Chinese investors need to add value and make more efforts to train local residents and create jobs," said Adelhelm Meru, director general of Tanzania Export Processing Zones Authority.
Meru anticipated that China would play a bigger supportive role in the master planning of the zones and exchange expertise in infrastructure construction.
Zhang Yansheng, director-general of the Institute for International Economic Research of the National Development and Reform Commission, said there need to be significant differences between SEZs in China and Africa, and even between different regions of Africa, according to the prevailing local situation and development goals.
"But what must be similar is the introduction of competition, international cooperation and incentives from local governments."
(China Daily September 15, 2010)