WB to Deepen Partnership with China After Achieving Successes
Xinhua, September 14, 2010

Adjust font size: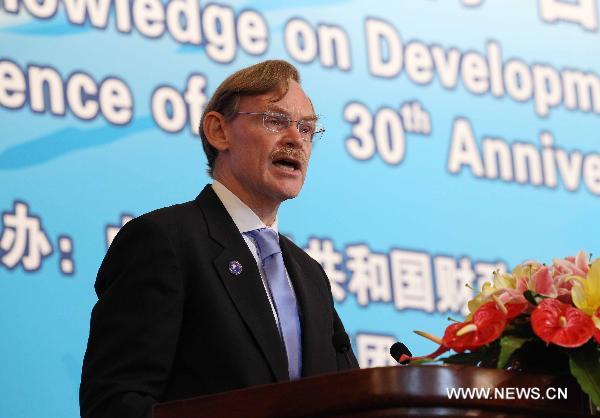 World Bank President Robert Zoellick addresses the Conference ot the 30th Anniversary of China-World Bank Cooperation in Beijing, Sept. 13, 2010. [Xinhua] 
President of the World Bank (WB) Robert Zoellick said Monday that the WB would expand its partnership with China to help the country become a high income nation.
Quoting China's former leader Deng Xiaoping, who described China's transformation as crossing a river by feeling the stones, Zoellick said "The WB looks forward to deepening its partnership with China. We will help China as it completes its crossing of the river.
"Experience shows that transitioning from middle income to high income status can be harder than from low income to middle income," said Zoellick at a seminar marking the 30th anniversary of China-WB partnership.
To avoid the so called "middle income trap," China was already looking at ways to generate new sources of growth, especially through urbanization, human capital formation and innovation policies, he said.
Zoellick promised to continue to work with China "to end the poverty that still affects millions of people in China and to support the rebalancing of China's economy to achieve a harmonious society."
The key to the success of the China-WB cooperation was the country's remarkable capabilities in using the global knowledge and expertise of the WB to move its own reforms forward, Zoellick said.
"Knowledge was at the core of the very first WB project in China in June 1981," he said, referring to the "University Development Project" which helped modernize 28 Chinese universities and awarded fellowships to more than 800 scientists and engineers to study abroad by providing the equivalent of US$200 million.
Through projects like "Basic Education in Poor Provinces," "Northern Irrigation," and "Infectious and Endemic Disease Control," China acquired the expertise to improve living conditions in low-income areas and create millions of jobs, he said.
In explaining how China combined joint studies with training and investments to enhance policy reforms, Zoellick also cited a joint WB-China environmental sector study.
Completed in 1992, the study laid the groundwork for China's first environmental strategy in 1994 and lead to a highly successful WB-China partnership that was helping China address environmental challenges.
Zoellick also listed the appraisal and implementation of priority projects and programs introducing new technologies such as hydroelectricity and facilities to handle bulk grain as successful projects in China.
China and the WB had also worked together on phasing out ozone depleting substances, restoring forests across the country, introducing laws to encourage the use of renewable energy, and adopting fuel-quality standards equal to those of the European Union, he said.
As the projects in China bore more fruit, the learning was becoming more mutual. "The WB has learned from the ways China fine-tuned and scaled up successful projects," Zoellick said.
(Xinhua News Agency September 14, 2010)